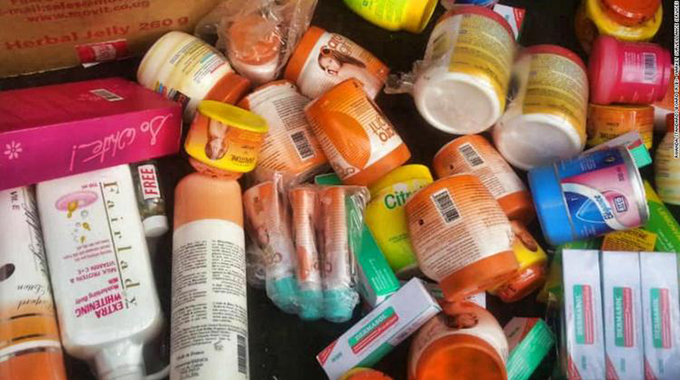 The ManicaPost
Abel Zhakata
Senior Reporter
ILLEGAL skin lightening creams, soaps, pills and gels have flooded pavements in Mutare's central business district (CBD) as peddlers of the banned substances work round the clock to quench a seemingly insatiable appetite by many to bleach their skin.
Prominent businesspeople are allegedly smuggling the substances in containers mostly from Zambia disguised as legal imports.
As soon as the merchandise lands in the country, a closely-knit network of distributors sells the contraband on the streets and from the backyards of cosmetic shops, beauty parlours, salons, pharmacies and car boots.
While the thriving illegal business has fattened the pockets of some of the traders, health experts have warned of the irreversible skin complications which result from the use of the substances.
Investigations carried out by The Manica Post revealed that well-established syndicates and individual smugglers were contributing immensely in the smuggling of the skin-lightening cosmetics into the country.
"The big syndicates are bringing in containers of these medicines while we also have cross-border traders who smuggle small quantities in their luggages. Most of these creams are coming into the country from Zambia via Chirundu Border Post. They bribe their way into the country," said a clearing agent who requested anonymity.
He said since the substances were packed in small containers, smugglers concealed them in their luggage to avoid detection at the border.
Mutare District Central Investigation Department spokesperson, Detective Sergeant Coleen Mbato said the peddling of illegal skin-lightening cosmetics and related substances was rampant in Mutare.
He said from January up to April this year, a total of 24 cases were investigated while several arrests were made for possessing the banned substances.
"This is an illegal enterprise that is growing on a daily basis, but we have since made deployments to curb this vice. We have activated an operation code-named Afya that is targeting the illegal trade in skin-lightening substances and other allied medicines.
"Our detectives from the Drugs and Narcotics Department are making rounds in the city and arresting those involved in the illegal trade. The business community must understand that when they want to import medicines or related substances, they must obtain the required documentation from the source country to establish if the said drugs are fit for human use.
"When these drugs land in the country, they must also get a certificate from the Medicines Control Authority of Zimbabwe after the drugs have been cleared to be safe for use," said Sergeant Mbato.
Mutare medical practitioner, Dr Prudence Mhlanga, said the use of un-prescribed skin lightening creams is dangerous.
"Some of these people are using steroid pills which will cause health problems in the long run. Yes your skin will lighten up, but these medicines weaken the skin such that it becomes very vulnerable to infections or ultra violet problems.
"The skin will respond badly to sun rays.
"Some of the resultant health complications can be reversed, but the bulk of them are irreversible. I once attended to this other woman who developed hyper pigmentation after using these creams. Initially her skin changed for the better, but after some time she developed very itchy black spots on her elbows and knuckles.
"It is not advisable to use these medicines and that is why most of them are being sold through the back door," said Dr Mhlanga.
A commercial sex worker who uses skin lightening creams said clients prefer light skinned women, hence her decision to bleach her skin.
"I use Diproson which comes from Zambia. Before I go to bed, I smear some of the cream on my face and neck; it works wonders. But the problem is that when I skip using it for two days, I develop some pimples; so I have to make sure that my supplies do not run out. This is chewing a large chunk of my money as a 375ml tube costs about US$3," she said.
A peddler of the creams who operates along Herbert Chitepo Street in Mutare said the substances are on high demand.
"On a daily basis, I push around forty 375 ml tubes of Diproson which translates to about US$120; and my profit is about US$40 as each tube has a profit of US$1.
"I use part of the profit to bribe police officers who patrol the streets,' he said.
Meanwhile, police detectives recently arrested a 61-year-old woman from Murambi, Mutare, after she was found selling complementary medicines unlawfully.
Complementary medicine refers to a range of medical therapies that fall beyond the scope of conventional medicine.
Cynthia Kusema was selling the medicines at her herbal shop in the city.
"The woman was arrested along Third Street in Mutare after detectives saw complimentary medicines inside a parked vehicle. They approached Kusema who was in her office at Green World Herbal Shop.
"During questioning, Kusema admitted that she was the owner of the vehicle. She was asked to produce a permit that authorises her to sell or possess complimentary medicines but she did not have the documents and was subsequently arrested," said Sergeant Mbato.
The cops searched the vehicle and herbal shop and recovered 40 different types of complimentary medicines including Pire Pollen tea, Kidney Tonifying capsules, Royal Jelly, Ginseng, Glocoblock pills, Livergen, Lycopene, Deep Sea Fish Oil, Parashield, Ishine, Spirulina, Meal Cellulose, Propolis, Chitosan, OPC, Ganodema, Prosta Care, Galic Oil, Cordyceps Plus, Soy Power pills, Danshen Combo capsules and Hapasture capsules.
Kusema is being charged with contravening Section 29 of the Medicines, Allied Substances and Control Act, Chapter 15:09 as read with Statutory Instrument 97 of 2015 which prohibits the unlawful possession of complimentary medicines.