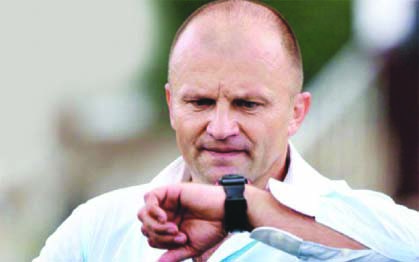 The ManicaPost
Moffat Mungazi
Sports Reporter
AS Zimbabwe trudge on in their quest for the 2022 FIFA World Cup qualification, consternation among the national game's followers is increasingly growing with each passing game.
After opening the account with a lifeless goalless stalemate against neighbours, South Africa last Friday, the Warriors suffered a severe setback when they went down 0-1 away to Ethiopia on Tuesday.
That consigned them to the foot of their Group G pool.
This has effectively set the alarm bells ringing.
Already, one third of the campaign has been covered and the Warriors have little to show for their huffing and puffing.
Only two matches into the race, the senior men's soccer team is lagging behind and the fans are voicing their concerns.
Virtually similar sentiments were echoed by those who spoke to Post Sport this week in the wake of another disappointing outing by the team.
For some, it is all doom and gloom, yet for others, a dim light still flickers at the end of the tunnel.
Clearly, some among the supporters are using their hearts to think, while others are trusting their heads.
Sluggish start
An unconvincing take-off has left several fans fretting and fearing for the worst.
It is early days yet, with the campaign only two games old, but the Warriors have been worryingly wobbly.
Chipinge resident, Mwaoneni Ndoro feels that coach, Zdravko "Loga" Logarušic and his charges' performances have been hardly inspiring.
"This does not augur well for a team vying for a ticket to go and compete with the global game's aristocrats on an international arena. We have started badly and it is always difficult to play catch-up.
"I had anticipated a promising start, but my confidence for a fruitful campaign is fast fading away. With the way we have begun, we can now only keep our fingers crossed that the rest of the campaign may bring something positive," said Ndoro.
The national team is making a mockery of their battle name as they are meekly capitulating to rivals, she said.
Added Ndoro: "This is not a true reflection of being Warriors or how they must be performing."
Clown or coach?
Loga has been the butt of intense criticism, with some poking fun at him.
Jibes and sometimes unsavoury jokes have been fired at him.
In an unrestrained assessment, Linos Maunga in Nyanga was more scathing and has already passed a damning verdict on Loga.
"This is turning into a circus that nobody — especially we, the fans — is enjoying watching. Loga himself has become the chief clown. He has never owned up to his shortcomings and seems to never run out of excuses.
"While he has blamed the local league's inactivity, the absence of some players as well as biased officiating, the truth remains that he is also culpable of this poor showing," bellowed Maunga.
He questioned the coach's credentials and queried his suitability for the role.
Maunga described him as being out of depth at this level of the game.
Untenable relationship
There are enough and justifiable reasons for ZIFA to dismiss the gaffer, Rambayi Satumba of Rusape suggests.
She urged the association to call time on the expatriate coach's tenure.
The longer this marriage with Loga subsists the more we are likely to stay in this rut, she reckons.
"What value has this guy added to our national team? What is he offering us that we already do not have? Has he proved to be any better than his predecessors? Absolutely not! We are actually in a worse off state than before he took over.
"ZIFA should, therefore, dismiss him or he can do the honourable thing and simply walk away to spare us further disgrace. We deserve better, especially from the association, and are now demanding it," quipped Satumba.
But are ZIFA and Loga in denial of the obvious facts that are conspicuously showing before them?
That this is not working is as clear as day and would it not be prudent to part ways now?
How long does the coach need to get things right?
Another fan, Lambert Mandimutsira, is convinced the Croatian tactician is not the right man for the job.
Said Mandimutsira: "We are losing our way and identity under him. No progress is discernible and, therefore, there is no direction at all. The only course we are taking is into the wilderness."
Indifferent form, ignominious history
If being our own worst enemies was an art, then Zimbabwean football is fast perfecting it.
Is it not chastening that we drop points at home and fail to pick any away?
If we are losing to teams that we must ordinarily be beating, does it mean we are not good enough?
Poor both in our own backyard and on the road, can we expect to salvage something out of this faltering campaign?
If being promised US$65 000 cannot inspire the boys to victory, then what on earth will?
Not mentioning the prospects of making history by becoming the first group ever to make it to the Promised Land and participate at the prestigious tournament.
After the lows of the ignominy of finishing bottom of the pile at both the CHAN and COSAFA competitions this year and being ranked the tournaments' worst team, we continue plummeting.
And there appears to be no respite in sight.
Now we are onto some unenviable history, too.
This group's performance has been the poorest in official history, managing just a single victory in 14 matches.
This is atrocious by any standards and has become unacceptable.
If this is how we are preparing for the 2021AFCON finals, using the World Cup qualifiers, then we still have a long way to go and make it Qatar for the grander occasion.
But because the game of football is unpredictable, we can only draw some form of solace and cold comfort that we may come right.
Hoping against hope?
Amid all the pessimistic outlook, Edgar Rakabopa of Dangamvura believes the lean spell will come to pass.
"This is the time for everyone to rally behind the team, coaches as well as ZIFA and pull in the same direction. We have been under par, yes, but cannot afford to throw in the towel at this juncture.
"There are a lot of factors to consider as having contributed to this bad patch and if these are rectified then we still have a chance. It is Go Warriors Go all the way," he said.
After all is said and done, it is suffice to say will the real Warriors, please, stand up?