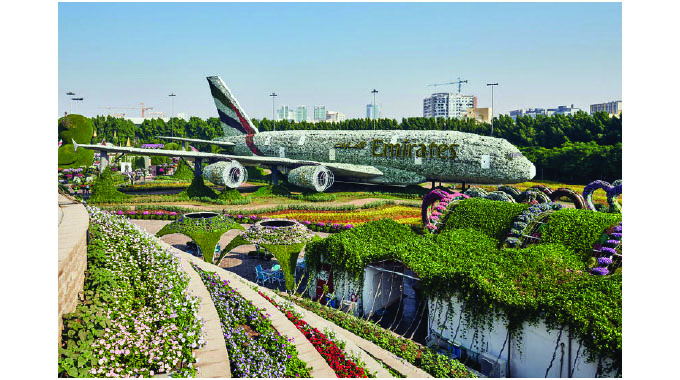 The ManicaPost
Despite being a sprawling urban metropolis in a desert, Dubai has a surprising number of lush parks and beautiful green spaces.
Dubai's parks come in all shapes and sizes and with a wide array of amenities, from simple lawns and playgrounds to sanctuaries for wildlife migrating between Africa and Asia. 
Some parks host pop-up farmers' markets and small shops on the weekends. 
But at the Dubai Miracle Garden, the beauty of nature is unmatched.
The garden covers nearly 2000 square metres and is touted as the largest natural flower garden in the world. 
Wander past quirky bloom-covered peacocks, clocks and castles — an 18 metres tall Mickey Mouse is also a showstopper.
The garden hos has a cabana with billowing drapes and floor cushions. 
The garden gets extremely busy on Fridays and Saturdays (especially Friday afternoons) and public holidays.
 Boasting more than 150 million flowers — and more than 120 different varieties — Dubai Miracle Garden is the largest natural flower garden in the world, and 2021 is its tenth season. 
It attracted 55 000 visitors a week before the Covid-19 pandemic affected tourist arrivals. 
Last season the park enhanced its night time experience for visitors, with sculptures kitted out with twinkling lights. 
The amphitheatre was also revamped, featuring an observatory to enjoy live entertainment and panoramic views of the garden. 
There's also a 400m walking track to take in the flower art, where there will also be floral parades, street performers, Zumba sessions and more.
 One of the most famous sights at Dubai Miracle Garden is the Hearts Passage, while there's also an area dedicated to Disney.
Dubai Miracle Garden holds three Guinness World Records. These include the record-breaking Emirates A380 display along with an 18-metre floral structure of Mickey Mouse. 
Mickey stands at 18m high and was the first Disney character floral display in the Middle East, earning a Guinness World Record for World's Largest Topiary Structure in February 2018.
 It features nearly 100,000 flowers and weighs 35 tonnes. 
Dubai Miracle Garden has two other Guinness World Records too — largest vertical garden, which it achieved in 2013, and the world's largest floral sculpture forming the shape of an Airbus A380 in 2016.  — lonelyplanet.com