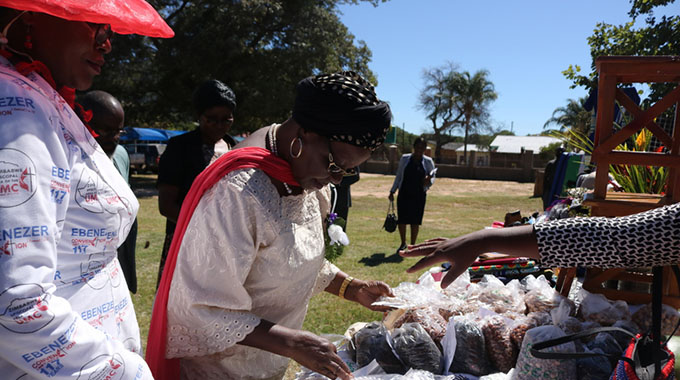 The ManicaPost
Kudakwashe Chidziya Post Correspondent
Government has engaged Small to Medium Enterprises (SMEs) in Manicaland to assist them in sourcing markets and coming up with strategies to empower women in rural areas in line with Vision 2030.
Speaking at a business expo held in Marange last week, Women Affairs, Community, Small and Medium Enterprises Development Minister Sithembiso Nyoni said there was need to link rural business people with potential markets to enable them to grow at the same pace as their urban counterparts.
The expo and exhibition, which was held in collaboration with the United Methodist church, ran under the theme "Evangelising through economic empowerment".
"These hardworking entrepreneurs need to have strategic markets where they can sell their products. Without markets, the business is affected. As a Ministry, we applaud these initiatives especially by churches and women as they give equal opportunities to everyone in business regardless of gender.
"Such business exhibitions give local business people the opportunity to connect with other big companies and it is our mandate as a ministry to connect these people with markets," said Minister Nyoni.
Speaking at the same event, Minister of State for Manicaland Affairs Dr Ellen Gwaradzimba said the involvement of women in the economy was vital to attain a middle income economy by 2030.
"Manicaland has a lot of hardworking people, among them women, but these people were lacking access to markets.
"This is evidenced by how farm produce is rotting daily at Sakubva Musika because they have nowhere else to sell their goods. This exhibition will create market linkages and ensure that Zimbabwe will have a middle income economy by 2030 or even by 2025," said Dr Gwaradzimba.
Women's Microfinance Bank chief executive Mrs Mandas Marikanda assured local business people especially women of more financial support.
"Poverty has no gender, but we are encouraging women to venture into business and we will assist them with financial literacy, marketing their products and even capital," said Mrs Marikanda.
United Methodist Church Reverend Nyamudzura applauded the Government for supporting upcoming business people.