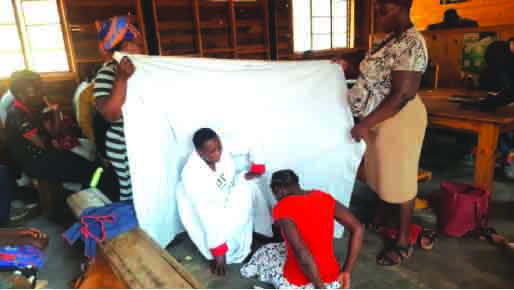 The ManicaPost
Tendai Gukutikwa
Weekender Reporter
A Chimanimani man claims that his wife acts like a man whenever they get into their matrimonial bedroom.
Gibson Kufandada claims that his wife, Rumbidzai Ngomana's voice becomes hoarse and she fights him off each time he tries to be intimate with her.
She also demands to know why he (Kufandada) will be trying to bed another man (Ngomana).
He said for the past 10 years of their marriage, his life has been a script from hell since Ngomana's hostility only surfaces in their bedroom.
"I am now confused, I don't know if my wife is a goblin's wife or if she is the goblin herself. The way she acts is out of this world. She becomes a very different person whenever she enters our bedroom.
"Even her step changes to a man's and she speaks in very deep and intimidating male voice. I have endured a lot. I am a very strong man because I am still sharing the bedroom with her," he said.
Kufandada revealed this at acting Chief Saurombe's court where he had dragged his in-laws, the Mushanguris, to resolve the issue.
"When she is possessed, she claims to be someone called Mushanguri Wedota, that is why I have brought her late mother's family to this court. I want them to help my wife so that we can rekindle our love. I am even afraid to be alone with my wife as the 'man' possessing her does not want me near her," he said.
Ngomana said for years now, she blacks out whenever she enters her matrimonial bedroom, only to wake up the next morning.
"I need help because whatever happens to me is affecting my marriage. My husband and children are afraid of me as they say I act like a wrestler sometimes. I do not know what to do," she said.
However, the Mushanguris said whatever is haunting Ngomana has nothing to do with them as she is not related to them by blood.
"This does not make sense because Rumbidzai is not a member of the Mushanguri family. Her mother was also not a member of our family," said Shepherd Mushanguri.
"When Rumbidzai's grandmother married into the Mushanguri family, she already had her own daughter (Rumbidzai's mother).
"For someone to claim that evil spirits or goblins from the Mushanguri family are tormenting Rumbidzai is a far-fetched lie. People are haunted by the sins of their fathers, and in this case we are not related to Rumbidzai," said Mushanguri.
Upon consultation, a white garment prophetess only identified as Mai Chijuba said despite not being related to Ms Ngomana, the Mushanguris received her lobola and squandered it without informing her paternal family.
"The problem is that Kufandada paid lobola to the wrong people and when they received that money, they used it to cast their unwanted goblins and evil spirits on his wife. If he recounts everything, he will remember that his problems started soon after paying lobola," said Mai Chijuba.
Kufandada chipped in: "It all started a few years ago when I paid US$150 as lobola to Noah Mushanguri, Rumbidzai's step grandfather. Since then, our relationship has never been the same.
"We have been married for more than 10 years and each time I try to take her back to the Mushanguris, they tell me to carry my own cross," he said.
Asked on why her husband accepted Ngomana's lobola when they were not related, Gogo Mushanguri professed ignorance over the matter.
"My husband went with that secret to his grave. Had I known, I would not have allowed it because we did not know Rumbidzai's father. She was raised in this family where her mother was also raised after my marriage to Noah Mushanguri," said Gogo Mushanguri.
Acting Chief Saurombe ordered the late Mushanguri's children to raise the US$150 that was paid as Ngomana's bride price and surrender it back to Gogo Mushanguri, who will in turn give that money to her brothers.
"She was raised by the Ngomana's family and therefore that money should be paid to them, not the Mushanguris.
"While you are raising the money, the goblin should be exorcised from Ngomana as soon as possible," he said.