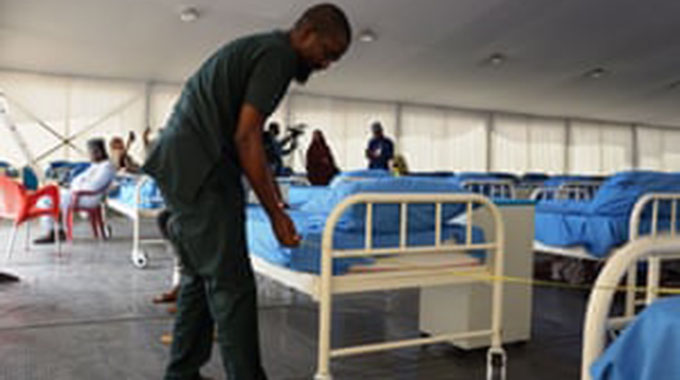 The ManicaPost
Samuel Kadungure Senior Reporter
A RUSAPE woman who tested positive to Covid-19 and was admitted at Rusape General Hospital Isolation Centre with her newborn baby has been discharged and is now recuperating at home.
The woman gave birth through a caesarean section at Gweru Provincial Hospital, before being transferred to Rusape.
She and her six weeks old baby were retested on Monday to determine their statuses.
The pair's results are expected early next week.
When the woman tested positive soon after delivery, authorities insisted on not separating the woman and her baby so as not to deny the infant her breast milk.
For the past few weeks, the woman has been religiously observing infection prevention measures to avoid infecting her baby.
On Wednesday, Makoni District Medical Officer, Dr Tendai Nyafesa said the woman was in a stable condition at her Tsanzaguru home.
"She was discharged last week and is at her family home in Tsanzaguru. She is fine and asymptomatic.
"The last time we tested the pair, the mother was positive while the child was negative. A retest will inform us their current statuses," said Dr Nyafesa.
Dr Nyafesa also said the baby is breastfeeding and doing well.
"Both the mother and baby are fine. We have given her time to recover and ensure anxiety dissipates before the Monday retest. The baby is breastfeeding and growing well and the mother continues to show no symptoms.
"The mother has done so well to avoid infecting the baby. She is religiously observing infection prevention control measures," said Dr Nyafesa.
The woman tested positive on her return from South Africa, where she had visited her husband as well as to purchase clothes for the new baby.
Rusape now has five confirmed cases of Covid-19.
Three new cases were transferred from Harare recently, while the other case involves a returnee from United Kingdom.
All the patients are in self isolation at their respective homes.
"The other four patients are still positive and in self isolation at home. We retested two of them on Monday and the other two should be retested tomorrow.
We are continuously monitoring them to ensure they observe home isolation regulations," said Dr Nyafesa.