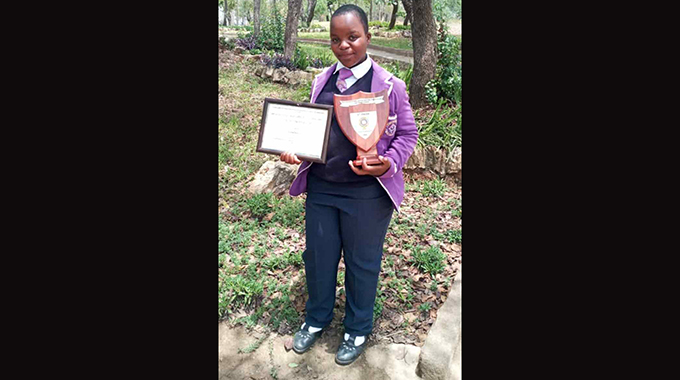 The ManicaPost
Lovemore Kadzura Rusape Correspondent
ST Joseph's Rusape Primary School's Grade Seven student, Ayisha Titimira, did Manicaland proud when she scooped this year's Postal and Tele-communications Regulatory Authority of Zimbabwe's (Potraz) International Letter Writing Competition for young people.
Ayisha (13) shrugged off stiff competition from both primary and high schools competitors as the competition is open to all school going learners aged 15 years and below.
For her sterling effort, Ayisha won $82 000 and stationery hampers. Her school was awarded with library and stationery hampers worth $82 000 and a gold certificate.
The International Letter Writing Competition has been running for the past 49 years and this year, learners were asked to write a letter to an adult, describing the world we live in.
Hundreds of students entered the competition but it was Ayisha's well written, articulate and unique letter that stood out the best nationwide.
Ayisha outclassed participants, including those from well-established high schools.  She did not allow her background to deter her ambition to conquer the nation.
At provincial level, Tavonga Musiwa of St Faith's High (Form One) came second to Ayisha; while Desire Munyanyi of Nyashanu High (Form Two) came third. They won individual prizes and more for their schools.
The soft spoken Ayisha said she feels humbled after winning the national competition. She paid tribute to her teachers and her schoolmates for providing guidance and encouraging her to enter the competition.
On how she is going to use her windfall, Ayisha said she wants it saved for her high school fees.
"I am speechless. This is a special moment for me and my school. Credit goes to my teachers and parents for their guidance, as well as my schoolmates for giving me stiff, but healthy competition. I just applied my life experiences and what my teachers taught me in class. I want to be a lawyer or a journalist because I am good at debate and writing.
"The money was deposited into my mother's bank account. She is a teacher in Mt Darwin. She will guide me accordingly on how best to spend the money but I think saving it for my high school fees would be a good idea. I want to enrol at a boarding school," said Ayisha.
Her mother, Mrs Dorcas Titimira said she agrees with her daughter's plans on how to use the money.
"I am over the moon with my daughter's achievement. I am proud of her and the teachers who provided her with the required guidance.
"So far she has indicated that she wants a cellphone and laptop for her online lessons. Ayisha's desire is to see the money going towards her high school fees. I will let her decide on how to use it," said Mrs Titimira.
Speaking at the prizes handover ceremony at St Joseph's Primary School last week, Manicaland Provincial Education Director, Mr Edward Shumba said schools in the province are doing well in nurturing talented students.
"Hats off to Ayisha, the provincial and national winner of the essay writing competition. She has made us proud and we can walk tall because of her achievements. I am really impressed by the various talents displayed by our students in this province. Such competitions are important as they enhance the students' cognitive development.
"Teachers and parents are therefore encouraged to build on the students' ideas and assist in the best way they can," said Mr Shumba.