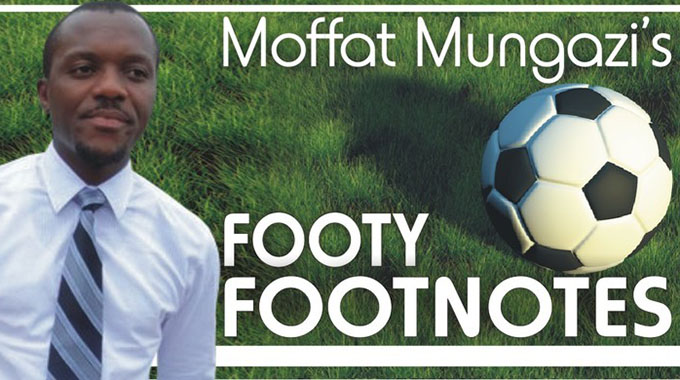 The ManicaPost
It gives me unique pleasure to get this opportunity to contribute on this revered space in the newspaper of choice. Finest regards to the Gamechanger, my predecessor, a standard-bearer who has held this template up for me and whose big boots my tiny toes will try filling.
Mr Hatred Zenenga, The Manica Post editor, words can never be enough . . . Merci beaucoup, sir!
Enough about the pleasantries and straight into the day's business . . .
So Dynamos are buzzing again.
Hardly surprising, though, given that this is the team that draws its life from seven million souls and also feeds their dreams (as ex-skipper and 1994 Soccer Star of the Year Memory "Mwendamberi" Mucharehowa hypothesises in his biography).
And it is hard to begrudge them given how their youthful blue brigade recently put one over their arch rivals Highlanders and CAPS United in the Commander ZNA Charities — dispatching MaKepeKep in the semi-finals before getting the better of Bosso to clinch gold in the season curtain-raising invitational tournament.
Now a double dosage of victories in as many weekends over two sworn enemies, with a trophy and a winners' cheque to ice it all up, should be interesting enough to talk about.
It has even got exciting for the DeMbare faithful.
Teenage hotshot Kudzanai "KD" Dhemere — whom HKD (Hatimire KuSupporter DeMbare), a popular clique among the vociferous DeMbare supporters, are already idolising — looks every bit an unearthed gem, albeit still requiring some polishing around the rough edges.
He has even created a few headlines in the newspapers.
That coach Lloyd "Samaita" Mutasa's "ECD class" refused to be bullied but stood up toe-to-toe to their traditional foes is feeding DeMbare's optimism, which does not look misplaced. Those two wins, looked at in proper perspective, in a way pepper their pre-season preps. Along with the rich pickings from the tourney, it crucially gathers them some momentum of sorts. It also puts them in good psychological shape, with the Castle Lager Premier Soccer League 2018 season just around the corner. That the young blood stepped up to the plate, grabbed the stage and upstaged their traditional foes has given some among the Glamour Boys fans the reason to believe that they have enough ammunition in their arsenal to challenge for honours during this campaign; the hope, however, being that these bright prospects will not dim over the course of the gruelling Premiership season.
Dynamos had failed to win in two preceding preparatory ties, falling to Herentals and drawing against Buffaloes with some of their regular players in action. Then enter the youngsters following a boycott by their seniors, and they made a mark. Some first-teamers return to the fold against visiting Zambian side Buildcon and DeMbare lose again!
But it had looked like there was no fear of the big stage in these boys during their ephemeral hour of glory, given the profile of their opponents in those two games, and the only frightening thing is how good they may become when they eventually grow into men. If they are just cutting their teeth in the game, what will become of them when they get their bite?
These "kids" do not call their coach Samaita "Father" for nothing.
To their credit, Dynamos' second string have so far been as exciting as Zifa president Philip Chiyangwa's reign at the helm of the association has been controversial. While they may not have been overly dominant, still they have overshadowed their adversaries like Winky D has towered over his Zim dancehall antagonists. Not an otherworldly performance in those two games, but still good enough to take to the cleaners the most reviled of the club's rivals.
Even their gaffer is purring.
"I think it's something positive for the institution. These are youngsters coming up within the system. We will have a bright future if these youngsters can be nurtured well and given more game-time. I am sure they needed this before we commence the PSL league championship," Mutasa was quoted as telling our sister publication The Herald following their triumph.
The project has even earned the endorsement of former DeMbare favourite son and coach Moses Chunga, who arguably pioneered and superintended another "kidznet" enterprise at the club at the turn of the millennium which earned him the moniker "Bambo."
The financial constraints aside, it does not look like it will be too difficult for Mutasa to motivate the boys because pulling on the most famous football shirt in this land is enough incentive on its own, while endearing oneself to the Vietnam Stand crowd would be the sweetener. Eternalising themselves in the Glamour Boys football folklore would be the ultimate goal.
Call this a disclaimer if you will, but I am no member of the DeMbare praise and worship band harping on about, shouting myself hoarse and "hallelujah" to those two wins over Bosso and MaKepeKepe. Neither do I wear blue-tinted shades that could cloud my perspicacity, but am only one just appreciating their ostensible fine fettle.
After all is said and done, will these Dynamos "boys" grow into men? Real football men. Can they be the best of the rest?
If it is about football that you care, let's share the cheer because we are made for the game, mad about the game!
For interaction send your views, comments and contributions through feedback on WhatsApp or sms to 0736 036 593 or e-mail:[email protected]