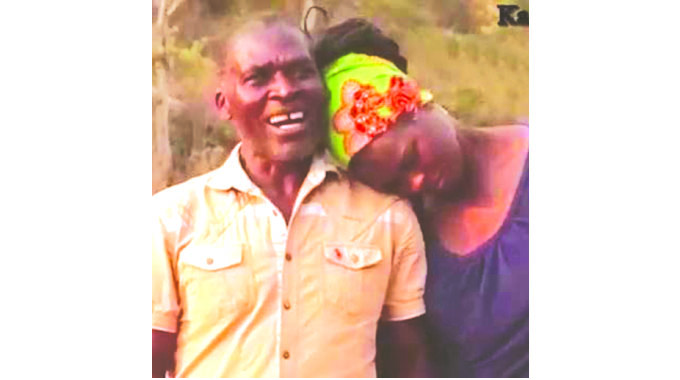 The ManicaPost
Dillon Sisimayi Weekender Correspondent
IMAGINE your spouse hooking you up with another person in exchange for beer and some cash!
While this sounds like a far-fetched imagination — fit for the Mills and Boon tales — the macabre real life drama recently unfolded in the Chipendeke area of Mutare District when a husband 'leased' out his wife, who is a mother of seven, to another man.
The woman at the centre of the saga, Tafadzwa Matura, her parents and the 'benefactor' Daniel Masikati confirmed the case.
However, the 'lessee' — Anthony Kananda — claims that he was hoodwinked by Masikati's pretence of benevolence. Chief Zimunya is now seized with the matter and will be hearing it in his court soon.
When The Weekender recently visited the area, Matura looked so cosy in the arms of her new found love, Masikati. She said Kabanda was the brains behind the whole arrangement.
"Masikati was married to my late sister. About a year after my sister's death, Kabanda offered to 'lease' me out to my brother-in-law as a 'reliever'. He cited poverty as the reason for the arrangement as we were struggling to put food on the table for the children as well as sending them to school.
"Under the arrangement, Kabanda agreed with Masikati that I would be his wife from 10pm to between 3am or 4am. They agreed that we would get money, groceries, school fees and beer in return. This arrangement has been in place since 2017 and my life has turned for the better," said Matura.
"Masikati is a loving and caring man. He is also good in bed. He has been spoiling me with everything, including undergarments, which Kabanda could not afford to buy for me," she said.
Masikati said he is enjoying life with his new found love.
"When Kabanda tabled his proposal — that we share his wife — I welcomed it as I was lonely following the death of my wife. I had been a widower for a year and therefore I didn't see any problem with the arrangement. Initially Kabanda would accompany his wife to my place every night. This happened on six different occasions until he encouraged me to be man enough and pick her from their homestead.
"On numerous occasions, the couple would come to my homestead to collect their groceries and money.
"At times I would give Kabanda extra money for beer. Everyone was happy with the arrangement.
"However, things took a nasty turn early this year when Kabanda started making outrageous demands. He demanded a beast from me but Tafadzwa has not been agreeable to that. She has indicated that Kabanda has not paid a single cent for her lobola.
"These disagreements prompted Tafadzwa to approach her parents and let the cat out of the bag," said Masikati.
He insisted that he did not capitalise on the couple's poverty to snatch Kabanda's wife.
Masikati went on to admit that he is now finding the going tough.
"The economic situation is now taking a toll on me and I am now struggling to look after Kabanda's seven children as well as my own three children. However, as a man I have to soldier on as I am enjoying quality time with his woman," he said.
On the other hand, Kabanda threatened living hell for Masikati, Matura and his in-laws, whom he accused of sanctioning the affair.
"Where on earth have you ever heard of such a bizarre arrangement? Masikati capitalised on my poverty to inflict this pain that I am going through. Our arrangement was for me to look after his cattle while he would pay me for that. We never agreed on him taking my wife on a 'lease' arrangement. I also blame my wife because she should have known better," said Kabanda as he struggled with emotions during the interview.
"I only discovered their affair through rumours but I promise you, heads will roll. They have ruined my life as well as that of my kids. I will find a solution for all of this, even if it means casting a spell on them. I am poor, but people should not take advantage of my situation.
"My in-laws were aware of this affair. In fact, Masikati would source hypertension medication for my mother-in-law," claimed Kabanda.
Matura's mother, Gogo Jiri, said they only got to know about the issue when her daughter confided in her elder sister that Kabanda had 'leased' her out to another man.
"Tafadzwa said she could not have two husbands and asked for our intervention as Kabanda was now causing havoc," she said.
Matura's father also claimed that Kabanda pushed his daughter into the arrangement.