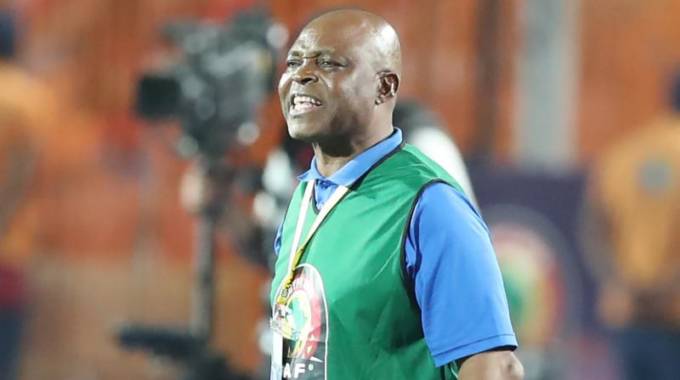 The ManicaPost
Ray Bande
Senior Reporter
THERE will be a significant majority of African coaches in charge of teams at January's Africa Cup of Nations finals in Cameroon, but Zimbabwe is highly likely to be led by an expatriate whose performance so far is barely any better, if not one of the worst, especially when compared to a group of local coaches who came before him.
In the final phase of group matches, the qualification of Sierra Leone under John Keister meant 14 of the 24 team at the finals will be handled by a local coach – barring any sudden change of heart by football federations to change personnel in the period between the qualifiers and the finals in Cameroon.
It is a significant swing in favour of locals sweeping across Africa for a continent that has been long overshadowed by foreign coaches from Europe and South America at its biggest tournament finals.
Not since 1965 in Tunisia, when all six finalists were handled by locals, has there been such a large percentage of African coaches, in what will be seen as a vote of confidence in local talent.
African football records indicate that the 2002 finals in Mali was the last time there were more African coaches than foreigners at the finals, but then, in a 16-team field, there was an almost even split with nine Africans and seven expatriates.
But such is the senseless infatuation with foreign coaches that even for the first time in more than a half century, most of fellow African countries will have their own in the dugout, the Warriors remain stuck to an expatriate whose record makes a mockery of the foreign currency he is being paid since his widely criticised appointment.
In the wake of a humiliating 0-2 defeat at the hands of Namibia and the subsequent 1-2 drubbing at the hands of Senegal during the recent COSAFA Tournament in South Africa, questions have been raised on whether it is really worth the effort and resources in hiring a foreign coach.
That Zimbabwe has enjoyed much of its little football success stories under the tutelage of local coaches especially in 2004 when the country first qualified for the Africa Cup of Nations under the leadership of Sunday Chidzambwa, then 2006 when we went for the continental football showpiece under Charles Mhlauri, 2017 under Kallisto Pasuwa and the in 2019 under Chidzambwa again, makes the appointment, let alone perpetuation of the foreign coach's contract, hugely unreasonable.
Even if the sun rises from the west, the Croat, Zdravko Logarušić can hardly claim ownership of Zimbabwe's qualification to Cameroon 2021.
He was part just of a relay, which started with Joey Antipas.
It is not a secret that Antipas was forced out after acquiring as many points (four), in just two matches as Loga eventually had in four matches which ostensibly highlights the weakness of any argument that the Croat has added value to the national team.
It is not only sickening that Loga somehow shamelessly finds comfort in his one win over Botswana, but naturally begs the question whether the appointing authority – Zifa – is really serious in its management of the country's best supported team.
Fans interviewed by this newspaper felt Zimbabwe has more than enough football coaching talent that does not warrant looking beyond its borders.
There is also a minority who still see no reason to blame Loga.
Justice Chikoo of Gaza in Chipinge said: "It is sad that Zifa is always good in sending SOSs whenever they face budgetary constraints and yet they have the nerve to hire more expensive foreign coaches who do not add any value to the team."
Gracious Sithole of Ngangu Township in Chimanimani said: "I think the only justification for a foreign coach will be the results on the field of play. If we do not get the results we want, then what is the reason of keeping an expatriate. We will rather channel those resources towards developing our own personnel."
Admire Nyatsanga of Chikanga in Mutare said: "I do not think there is any reason we should hold on to Loga. Results have shown us that Antipas was better. It does not need a rocket scientist to explain this. It is common sense."
However, Zenzo Moyo of Gwanda, in a Facebook debate chat, said: "I do not blame the coach, but the system. In Zimbabwe, we do not build a team, but rather assemble a team. Building a team and assembling a team have different results. We need to go back to the basics of building a team from the grassroots."
As Loga's performance and his ouster continues being a subject of intense debate on the local scene, countries like Burkina Faso, Equatorial Guinea and Mali, whose recent previous appearances at the finals have been with a foreign coach in charge, have changed tack and opted for locals.Among the foreign coaches who have been active on the continent, Claude Le Roy has the record for coaching at the Nations Cup finals having led six different teams at nine tournaments, followed by Henryk Kasperczak (seven), Michel Dussuyer (six), Herve Renard (six), Alain Giresse (five) and Henri Michel (five).
2021 Africa Cup of Nations finalists:
• Algeria: Djamel Belmadi
• Burkina Faso: Kamou Malo
• Cameroon: Toni Conceicao (Portugal)
• Cape Verde Islands: Pedro 'Bubista' Leitao
• Comoros Islands: Amir Abdou
• Egypt: Hossam El Badry
• Equatorial Guinea: Juan Micha
• Ethiopia: Wubetu Abate
• Gabon: Patrice Neveu (France)
• The Gambia: Tom Saintfiet (Belgium)
• Ghana: Charles Akonnor
• Guinea: Didier Six (France)
• Guinea Bissau: Baciro Cande
• Ivory Coast: Patrice Beaumelle (France)
• Malawi: Meke Mwase
• Mali: Mohamed Magassouba
• Mauritania: Corentin Martins (France)
• Morocco: Vahid Halilhodzic (Bosnia)
• Nigeria: Gernot Rohr (Germany)
• Senegal: Aliou Cisse
• Sierra Leone: John Keister
• Sudan: Hubert Velud (France)
• Tunisia: Mondher Kebaier
• Zimbabwe: Zdravko Logarusic (Croatia).