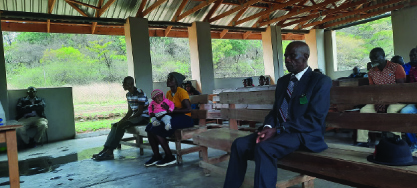 The ManicaPost
Tendai Gukutikwa
Weekender Reporter
A love triangle between three Zimunya neighbours which lasted for five years and resulted in the birth of two children has sent tongues wagging in the rural Zimunya community.
The woman at the centre of the love triangle, Spiwe Msipa of Bvirindi Village, gave birth to two children after interchangeably sleeping with Lloyd Saungweme and the elderly David Makari during the course of the five years.
The matter was came to light after Msipa's husband, Saungweme, took the second child for DNA tests, with the results revealing that he is not the biological father.
Acting Chief Zimunya then got wind of the relationship and summoned Msipa and her two lovers to his court last week.
"This is taboo in the Zimunya area. It is unheard of for a woman to have two husbands. It is sickening to think that our morals have become this rotten. Word got to me that this woman has been sleeping with both men even though she is recognised in this community as Saungweme's wife," said Acting Chief Zimunya.
The court heard that although Makari knew very well that Msipa is Saungweme's wife, the former is preparing to pay her bride price in December.
"Her brothers visited us recently to prepare for the lobola negotiations. I love her and I will be paying her bride price in December, no matter what people say. Her family already know that I am their new son-in-law," said Makari.
He narrated how he fell in love with Msipa and decided to settle down with her.
"This man was neglecting this woman. He literally dumped her at his mother's homestead for two years. She had no one to take care of her. In fact, she is the one who seduced me because she had nothing to feed herself and her child. My sister advised me to marry Msipa since Saungweme had long deserted her.
"Our love blossomed, but she was still staying at Saungweme's home. When she fell pregnant, I advised her to elope to my place before l could pay the lobola. She refused and that is when Saungweme bounced back," said Makari.
However, Saungweme said he never deserted his wife.
He told the court that he was away for two years as he looked for work Mutare. He said although he was away, he would send his wife some money for his family's upkeep.
"I still loved my wife and when I came back, we continued consummating our marriage. I took care of her during her pregnancy after she told me that she was carrying my child.
"However, when the child was born, I realised that she resembled Makari. We went for DNA tests and it was revealed that I was not the child's biological father, so I sent her packing," said Saungweme.
However, Saungweme did not stop sleeping with Msipa, even after kicking her out of his house.
The pair were caught by Makari on countless occasions as they were having quality time in the bushes.
When asked about the paternity of her children, Msipa said Saungweme sired her five-year-old child while Makari is her one-year-old daughter's father.
She also said although she has been sleeping with both men, it is now over between her and Saungweme since he had not paid her bride price for the five years they have been 'cohabiting'.
"It is over between me and Saungweme. I love Makari. I would rather be with Makari because Saungweme does not care for me. If he did, he would not have neglected me for two years. I had to sleep with Makari so that I could put food on the table. I am staying with my kids at my workplace, but I want to be with Makari," said Msipa.
This resulted in Saungweme applying for damages through the Mutare Civil Courts.
His application, however, was dismissed after it was revealed that he was recognised as Msipa's husband, both legally and customarily.
At the traditional court, Saungweme asked for damages amounting to US$500 from Makari.
According to Saungweme's application, US$250 will go towards reimbursing him the DNA tests he conducted, while the other US$250 will cover the costs he incurred during Msipa's pregnancy.
However, Acting Chief Zimunya ruled that Saungweme should be paid US$700 as damages.