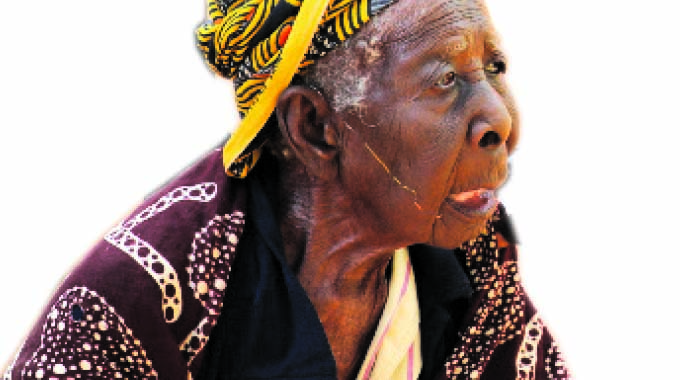 The ManicaPost
Liberty Dube Weekender Correspondent
AFTER her livestock was taken by her siblings half a century ago, a Nyanga centenarian has claimed that she bewitched and killed more than 10 family members in a decade.
The unapologetic Gogo Celepra Nyakwangwa of Saunyama Village has pledged to wreak more havoc in her family until she is compensated with nine beasts and three goats.
If she is not taken to a nearby hill for an 'undisturbed' five-day stay — which will see her surrendering her witchcraft paraphernalia — the visually impaired woman says there will be more misfortunes and distress for the Nyakwangwa family.
In a macabre real life drama, at a time when Gogo Nyakwangwa ought to be losing teeth due to her advanced age, the centenarian recently germinated new ones.
Last week on Friday, the tormented Nyakwangwa family sought Chief Saunyama's intervention to find a lasting solution to the problem.
Acting Chief Victor Saunyama said: "The Nyakwangwa family is troubled. Several members of the family have died mysteriously. We have been trying to find a lasting solution to their problems and they are willing to take Gogo to the hill."
Gogo Nyakwangwa's son, Johannes Saunyama, broke down in tears as he narrated the family's problems to The Weekender.
"My mother is disgruntled over a dispute that happened about 50 years ago. She was banished from the village while her father and the other siblings remained there. She says she was heartbroken.
"She said her father and brothers would ill-treat her, yet she was the source of their wealth, including the livestock.
"As we grew up, there were a lot of cattle and goats at our uncle Nyakwangwa's place. However, when she was banished from the village, she engaged a traditional healer and things have never been the same ever since then.
"In 2017, I engaged the Nyakwangwa family after she had demanded to be taken to a hill to surrender her witchcraft paraphernalia. We took her there and hid behind some bushes so that we could see what she was up to. She spent the whole day seated and then we took her back home.
"However, she said the curse would not be reversed because we had been spying on her. She now wants to be taken back to the hill for five days. She wants to sleep there and eat nothing for those five days. She says after that, sanity will prevail again in the Nyakwangwa family.
"She also wants compensation of nine beasts and three goats to break the spirit of death.
"We are very worried because she has confessed that she killed her young brothers and uncles. She has vowed to kill more," said Saunyama.
He said the whole family can't stop thinking about who is next on the firing line.
"I am in pain. She is my mother and l love her but the pain has to stop," he said.
Gogo Nyakwangwa's nephew, Mathew Nyakwangwa echoed the same sentiments.
"We are extremely worried. We don't know what to do anymore. We have seen our fathers, uncles and brothers dying one after the other. We don't know who is next in line.
"We are also facing a lot of misfortunes, we are not gainfully employed," he said, adding that his family is willing to take Gogo Nyakwangwa to the hill to break the curse.
The Weekender tracked down Gogo Nyakwangwa, who resides about a kilometre away from Chief Saunyama's court.
The elderly woman, who can no longer stand by herself, could not hide her frustrations.
"I am not happy. I have killed a lot of them and I will continue doing that. They should pay for their sins.
"However, as soon as I go to the hill, everything will be well for them. The gods will smile on them and their children will secure employment. They will start driving cars. They will amass a lot of wealth.
"But before that, I want nine beasts and three goats to appease my spirit," she said without mincing her words.