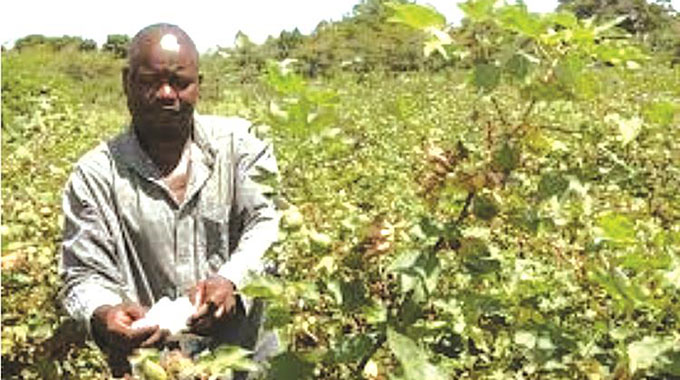 The ManicaPost
Freedom Mutanda & Luthando Mapepa
COTTON is a strategic export crop with the potential to significantly boost the national income and improve household food security.
With numerous farmers in Chipinge benlfiting from the Presidential Input Support Scheme, cotton production is immensely contributing to the rebound of the textile industry in Zimbabwe.
Chipinge is also famous for producing equally lucrative crops like macadamia nuts, sugarcane, bananas, avocado pears, tea and coffee.
The development of the cotton value chain has helped create employment, especially for women and youth.
From the cotton business, farmers in Chipinge are able to send their children to school and lead comfortable lifestyles.
Although cotton production had gradually declined due to the price fluctuations on world cotton markets, a Government policy which has capacitated growers through free inputs under the Presidential Inputs Support Scheme has boosted production.
Cotton consultant Mr Dirk Esterhuizen attributed the rise in cotton production to various interventions by Government.
Mr Esterhuizen said this will boost cotton lint production by 62 percent to 73 000 metric tonnes.
Cotton Company of Zimbabwe acting chief executive officer Mr Pious Manamike echoed the same sentiments.
"About 400 000 households in the communal areas have benefited from the input scheme since 2016. We are talking of roughly 400 000 hectares. Each household was given seed, fertiliser, an assortment of chemicals and a knapsack sprayer.
"Cottco employs 4 500 people during the peak season and we expect US$70 million to be realised this season. Cotton provides raw materials to the value chain in the textile and cooking oil industry. Moreover, it impacts on the livelihoods of about two million people,'' said Mr Manamike.
Mr Skumbuzo Thondlana, an executive member of the Cotton Growers' Association (CGA), said the high-yielding varieties distributed by Government had gone a long way in resuscitating the cotton industry.
"The Presidential Inputs Support Scheme has gone a long way in addressing the challenges around cotton production. Cotton is a very important cash crop, it has positively transformed many lives," said Mr Thondlana.
The first crop was grown in November and is now ready for picking, while more was planted in December. The next harvest is expected in May.
Cotton is mostly grown in Chisumbanje, Chinyamukwakwa, Mabhiza, Machona, Mbeure, Mahenye, Chisuma and Checheche.
Chipinge South Member of the National Assembly, Cde Enock Porusingazi, said cotton is the crop of choice for most farmers in Chipinge given its resistance to drought.
"Chipinge South is drought-prone as it falls in Natural Region Five. We are expecting a bumper harvest, thanks to the President's Input Support Scheme," Cde Porusingazi said.
"We are urging buyers to adequately prepare for the cotton marketing season. Both buyers and the farmers should benefit from this boom in cotton production. We do not want an exploitative pricing regime. We also do not want middlemen who rip off farmers.
Mr Edmore Busangavanye of Ward 29 in Checheche said he is expecting a bumper harvest despite receiving the rains late.
"My crop is in a good condition and did not suffer from moisture stress. I will certainly double the yield from last year. In terms of quality, this season's crop is better than last year's," said Mr Busangavanye.
Mr Partson Mtetwa (49) of Matikwa Village is also grateful for Government's support.
Mr Nelson Chikavhanga (43) of the same village was optimistic of harvesting at least 12 bales per hectare. "It is a jackpot, I will be smiling all the way to the bank,'' he said.
Chief Garahwa said by empowering farmers in this manner, the Government was also curbing crime in his area.
"Mrs Ruvarashe Makuyana (45) of Rimai said a number of women have taken up cotton production and are expecting big returns.
"For the past four seasons, I have been producing cotton with assistance from Government,'' she said.