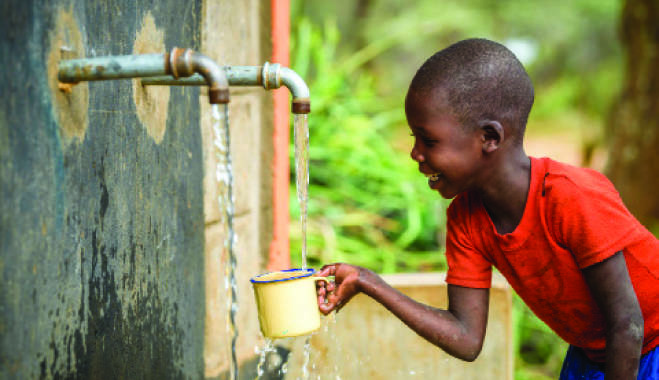 The ManicaPost
Tendai Gukutikwa
Post Reporter
THE World Health Organisation (WHO) stipulates that every person should access between 50 and 100 litres of water per day to ensure their most basic needs are met and that disease outbreaks are prevented.
The United Nations' sixth Sustainable Development Goal (SDG) also urges duty bearers to ensure availability and sustainable management of water for all.
But before development partner, Mercy Corps' intervention, not everyone in Mutasa District had access to this precious liquid as many had to travel long distances to get to a water source.
In Headman Nyautonga's area, 87-year-old Gogo Regina Muchena's daily routine included trekking for about three kilometres to fetch water from a borehole.
"Every part of my body would hurt after walking the long distance and pumping the water. My legs and arms were killing me but I had no option, I had to fetch water my own water for household use," said the elderly woman.
Another villager, Ms Merciline Banda's children chances of attending school and learning productively were severely compromised by the water woes as they had to fetch 150 litres of water before going to school.
"They had to fetch the water before going to school because we needed to use it during the day. They also had to fill up the empty ones when they came back from school. I could not carry the buckets of water due to old age," said Ms Banda.
"They usually complained of fatigue but there was no way around the water woes we were facing," she said.
Ms Banda said her children's studies were often disturbed during their menstrual cycle days as they were forced to stay away from school due to the water woes.
This saw Mercy Corps partnering with Mutasa Rural District Council and the community members in Nyautonga to install a piped water system that serves 245 households.
Mercy Corps kick started the project in February and community members joined in with labour.
Said Gogo Muchena: "I am grateful because the piped water is now a stone's throw away from my home. I can do all my house chores in time as I no longer need many hours to get to the borehole and pump water."
Headman Nyautonga, Mr Itai Muchena, said the water crisis was putting thousands of villagers at risk of contracting waterborne diseases as they were drinking contaminated water from shallow, unprotected wells.
Muchena Primary School Development Committee Chairperson, Mr Tendai Dzanza who was also the chairperson for the project thanked Mutasa women, stating that they contributed immensely in making the project a success.
"The majority of community members who worked on this project were women as they are the ones who were mostly affected by the shortages of water in their households.
"The women in this community played a great role and that shall always be remembered," he said.
Speaking on behalf of Mutasa Rural District Council Chief Executive Officer, Mr George Bandure, Mr Kenneth Zenda said the project is in line with Section 77 of Zimbabwe's Constitution which states that every person has a right to safe, clean and potable water.
"This is one of the Government of Zimbabwe's goals which is in line with the Sustainable Development Goals for everyone to be able to access water, sanitation and hygiene. As a council, we are striving to get piped water across the entire district so that everyone has safe drinking water.
"This project belongs to the community; it belongs to the people. They are the ones who will be using it and so they should take advantage of it and start income generating projects for their own good," he said.
Mutasa South legislator, Honourable Misheck Mugadza thanked Mercy Corps for working tirelessly to ensure that the Nyautonga villagers have access to clean water.
He said Government is working round the clock to ensure availability and sustainable management of water and sanitation for all.
Hon Mugadza pledged to construct a guardroom for security personnel who will be guarding the piped water scheme which was placed at the centre of the community for everyone to have equal access.