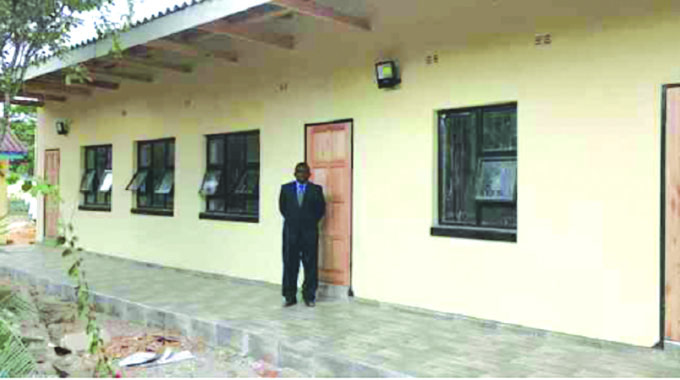 The ManicaPost
Samuel Kadungure
Senior Reporter
BEST schools have strong, dynamic and dedicated leaders — men and women with a clear vision of what they plan to accomplish — and the strategy, experience and acumen to execute and actualise that vision.
Students perform well under the guidance of such strong leadership.
This appositely fits the depiction of St Faith's High School of Rusape — the only school which pulled ahead to where it was expected to be in the November 2020 ZIMSEC A-Level exams, whose results were released last Friday. It had 40 students with 15 points or better — the highest achiever being Malvern Mukogo — with 6As (30 points) in Pure Maths, Statistics, Physics, Chemistry, Biology and Computer Science.
Two years back, Mukogo made history when he attained 17As at Ordinary Level.
Three students — Felistas Ziso, Panashe Manaira and Pride Ruzande had 25 points, while Marlvin Goto and Josphat Makwavarara had 3As and one B.
St Faith's High had 121 candidates, out of which one had 30 points, three (25 points), one (24 points), three (23 points), 12 (20 points), six (19 points), four (18 points), 40 (15 points), 23 (14 points), 18 (13 points), 12 (12 points), 10 (11 points), six (10 points), five (nine points), four (eight points), one (seven points), one (six points) and one (four points).
It had 100 percent pass-rate, up from 99.13, in 2019. Such is the school's powerful culture and high expectations of its teachers and students. Teachers provide students with intellectual challenges and accept only the highest quality of work as proven by its impressive over the past years – 33 (15 pointers) and 100 percent pass rate in 2017; 43 (15 pointers) and 100 percent pass rate in 2018 and 37 (15 pointers) and 99.13 percent pass rate in 2019.
The school has bias towards sciences – Physics, Pure Maths, Mechanical Maths, Statistics, Biology, Computer Science and Chemistry – which record between above 96 percent pass-rates.
One of the high achievers – Panashe Manaira – a day scholar recommended to the school by Vengere High School head, Mr Edmore Mangwende – said students feel pressure to perform.
Panashe said this positive pressure helps to encourage them to always do their best. Failure is not an option on part of the students or teachers.
"The classroom is accepting and respectful. The atmosphere is honest and the teachers are positive, actively motivating students to learn and succeed.
During the strike period they were attending classes. 
"Students are highly competitive and the lower the number of subjects you do the less valuable you are here. We are motivated to break records, hence the competition to study more subjects," said Panashe.
St Faith's High deputy head, Mr Irvine Mudangwe rescued Panashe, whose poor background saw him performing menial holiday duties at Vengere High to raise school fees by recommending him for a Solan Foundation scholarship.
He is now appealing for varsity fees to enable him to study medicine at the University of Zimbabwe.
The man at the helm – Mr Anold Maramba – who inherited the reins from the diminutive and authoritative Mr Moses Mukoyi, mentioned clear and shared focus, high standards and expectations for all students and teachers; effective school leadership, high levels of collaboration and communication, frequent monitoring of learning and teaching and focused professional development as characteristics of a positive learning environment.
He said a good school must bet on quality academic education, for which it requires a teaching staff committed to their work, with their own growth and updating of the knowledge they handle. 
Mr Maramba said their success is a combination of factors – an all-conquering culture infused and cultured over a number of years – and anchored on trust and accountability, team-work, pride and possessiveness.
"It is a juggernaut of systematic success made possible through the ability to work well with students, parents, stakeholders, Government and the church.
"The success of any school also hinges on students and teachers' discipline. Indiscipline leads to poor results. Indiscipline and good results do not mix," he said.
"We have a legacy that should not be destroyed. We have a calling to teach, and both teachers and students are intrinsically motivated to excel. If you are here, we expect you to make a positive difference, not to be truant or strike," he said. 
"The culture of reading at this school is different from other schools. Our students operate with minimal supervision; they are self-driven. We value team work instead of institutionalised squabbles".
To keep teachers happy and motivated, the Responsible Authority subsidises their electricity and regularly give them proceeds from their poultry project.
Mr Maramba thanked the Anglican Church for the speedy construction of a bilateral block to decongest Form Ones.
Though it remains a boy's boarding school, the school is integrating female day scholars.
"The boys need to understand that the girl child needs to access the same quality education as they do, and the girls are punching and competing hard with them. The best female student, Felistas Ziso, attained 5As (25 points) in Pure Maths, Statistics, Physics, Chemistry and Accounts".
The school has 68 female day scholars. Apart from Ziso, Shamiso Sikwehle attained 3As and C. 
Among the best achievers are also other day scholars – Wisdom Kairasora, Nobel Nemutambwe, Tonderai Nyamutswa and Ropafadzo Zengeni with 15 points and above.
Mr Maramba said their focus is to improve the Ordinary Level pass-rate, currently at 98.77 percent to 100 percent.
St Faith's High has 38 teachers and offers 17 subjects at A-Level and 21 at O-Level.
It has 950 students, paying $30 000.
School principal, Reverend Daniso Muchichwa, said they are executing the church's educational vision well, and there is need to match its academic exuberance with modern infrastructure.
"There is a mismatch, and these are areas we are attending to. Parents should come in and approve fees that advance this trajectory. Current fees are unsustainably low."
Rev Muchichwa said they have introduced a US$900 mission fund for Lower Six, paid once off by new students.
"The mission fund (US$900) was approved by the standing committee of the Anglican Diocese of Manicaland.  These funds go to the responsible authority, while school fees will continue to be approved by parents and government," said Rev Muchichwa.
The mission fund will be used to build modern classroom blocks and hostels.