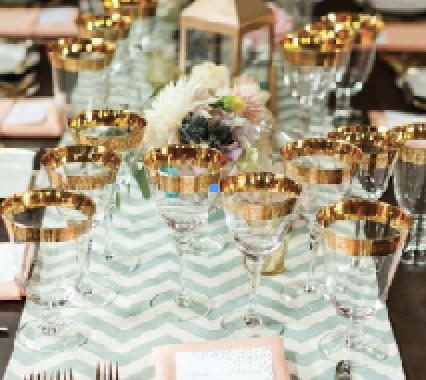 The ManicaPost
Try one of these fresh wedding colour combinations for a style that's all your own.
Looking to make your wedding stand out? Start with a unique colour palette. Draw inspiration from the big details, like the venue and season, then think about the mood you're trying to set. Do you want playful and fun (bright and vibrant hues)? Or lavish and intimate (moody jewel tones and luxe textures)?
Keep in mind that your colour combo will inform other design elements down the road, like bridesmaid dresses and flowers.
See our favourite unexpected wedding colour combinations below. And don't forget to take our Style Quiz to discover your dream wedding vision — from the perfect colour palette to your day-of timeline — and find the right vendors to bring it to life.
1. Magenta + poppy + yellow
Tips for pulling it off: With such a vibrant colour scheme, try to dress the rest of your reception in neutrals. Plain tablecloths work, or go sans tablecloths and let the natural wood show through. For the finale, turn your wedding cake into a show stopping display of lush blooms.
2. Emerald + cream + gold
Tips for pulling it off: Let your space inspire the décor aesthetic. For an industrial venue, outfit your tables in a chic blanket of cream tablecloths and sequined runners. For a ballroom, arrange garlands of greenery and white florals for an elegant, romantic feel.
3. Purple + burgundy + orange
Good for: Vineyard wedding themes
Tips for pulling it off: Vineyards have an old-world charm to them, and when decorated with deep, moody details, they're even more romantic and intimate. Place stems in individual bud vases and hang floral arrangements overhead to really complete the look.
4. Tangerine + orange + yellow
Good for: Modern summer wedding themes
Tips for pulling it off: Let the flowers do most of the talking with this palette by incorporating white backdrops, accent mirrors and simple table settings so your guests aren't overwhelmed by colour.
5. Black + pale green + white
Good for: Formal spring wedding themes
Tips for pulling it off: Keep your wedding colours from looking too stark by mixing cream or ecru white hues into the mix, and pull some greenery inspiration from the dusty, natural green shades of succulents.
6. Navy + yellow + blue
Good for: Country summer wedding themes
Tips for pulling it off: Personalised details such as a custom invitation design, monograms and unique accessories (read: that adorable navy-and-yellow-striped bow tie!) bring this preppy wedding colour combo down to earth and give it a sophisticated vibe.
7. Cinnamon + yellow + beige
Good for: Elegant autumn wedding themes
Tips for pulling it off: The regal Spanish vibe that comes with this colour combo is accentuated by traditional wedding elements, like a tall, tiered cake and classic place settings, complete with chargers, place cards and gold-rimmed glassware.
8. Chartreuse + powder blue + cornflower blue
Good for: Spring garden wedding themes
Tips for pulling it off: Height is everything here. Whimsical chandeliers, tall drapery and expertly placed courtyard-esque trees elevate this colour combination to a royal high tea soiree.
9. Merlot + peach + sage
Good for: Rustic late-summer wedding themes
Tips for pulling it off: This theme is all about being down to earth and shabby chic. Try to work as much natural wood into your décor as possible, then balance out the natural surroundings with some dramatic elements like chandeliers or a luxe lounge space.
10. Gold + peach + green
Good for: Outdoor summer wedding themes
Tips for pulling it off: Letting Mother Nature's greenery surround this colour palette is the best way to go — an open-air venue or even a clear tented reception space feels enclosed and private but still connected to the outdoors.
11. Navy + eggplant + gold
Good for: Art-deco fall wedding themes
Tips for pulling it off: Transform your venue into a Gatsby-esque space filled with live music and bubbly champagne. Mix a few different metallic hues into the mix, like a brassy copper, for that old-world charm. If the budget (and venue) allows, finish the night off with something epic, like a glitter drop or low-key fireworks display.
12. Poppy + celadon + white
Good for: Destination or beach wedding themes
Tips for pulling it off: This isn't your typical waterside wedding colour palette that leans toward seafaring blues, but it's perfect if you're looking for something outside the box. Caledon and white are soft neutrals that pair beautifully with sandy surroundings, while poppy is a stand-out accent colour that complements the ocean's blue waters.
13. Sage + gold + ivory
Good for: Year-round indoor or outdoor wedding themes
Tips for pulling it off: With such a versatile colour combo, lean on your venue and seasonal weather to inspire the décor. Be wary of trying to pull off this soft colour combo in a venue that's decked out in dark colours (think: carpet and wallpaper), or you may end up spending more than originally planned.
14. Aqua + cherry red + khaki
Good for: Retro-inspired wedding themes
Tips for pulling it off: Don't take this look too seriously — it's meant to be preppy and fun. Mix in cheeky signage, add low centrepieces in antique jars and incorporate a pattern into the scheme, such as stripes or chevron.
15. Yellow + grey + silver
Good for: Modern fall wedding themes
Tips for pulling it off: Pair with clean lines, graphic prints and sleek details to keep the look contemporary. For an industrial space, opt for concrete-textured gray accents. For something more glamorous, set your table with silver mercury glass votives. — https://www.theknot.com.