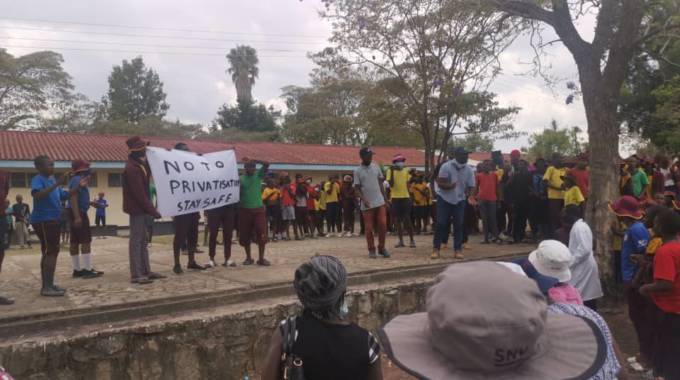 The ManicaPost
Samuel Kadungure
Senior Reporter
TEMPERS flared at St Faith's High this afternoon when irate students teamed up with disgruntled members of the community to besiege the parsonage and forcibly evict the school principal Reverend Daniso Muchichwa.
A visibly shaken Rev Muchichwa, who was being accused of orchestrating the removal of the school headmaster Mr Anold Makamba and his deputy Mr Irvine Mudangwe, was given up to midnight to move out of his official residence or risk the wrath of the demonstrators.
The Manica Post crew witnessed some students armed with logs and switches scaling up the precast wall while others pelted security guards who were restraining them with stones.
The security guards were forced to retreat and abandoned the gates open to let the bullish boys out after some members of the community charged at them.
The boys then trooped and charged toward Rev Muchichwa's residence, chanting songs that denounced the proposed privatisation of the school while threatening to turn the clergy into mincemeat.
Some started throwing stones on the roof of his house, while others destroyed his garden.
Some proceeded to deflate the tyres of his vehicle while others put a white banner inscribed "No to Privatisation" on the back of the car.
The demostrators threatened to picket at his residence tomorrow if he defies the deadline to leave the school.
Anglican Diocese of Manicaland registrar and spokesperson Mr Ashel Mutungura confirmed the violent disturbances at the school and accused some members of the community of inciting the students.
Mr Mutingura condemned the violent nature of both the students and parents.
"They are inciting students at our school. Why do people resort to violence when there is an ongoing process to engage them? After all this dram you will see what is going to happen," said Mr Mutungura.
The diocese 'fired' the headmaster and the deputy head on allegations of abuse of office.
They allegedly withdrew various amounts from the school account without supporting documents and were also accused of double dipping and concealing their financial interest in the school.
The allegations were part of an internal audit instituted between May 31 and June 5, 2021.
The School Development Committee (SDC) has since disowned the audit, saying they were neither informed of its initiation and findings.