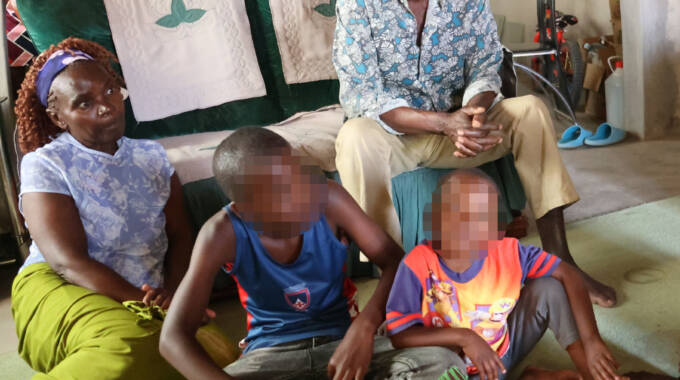 The ManicaPost
Tendai Gukutikwa
Weekender Reporter
FOR two years now, a 13-year-old teenager from Honde Valley has been out of school and it is believed that a vicious avenging spirit is barring him from setting foot at any learning institution.
This strange phenomenon has left the Madiro family stranded and desperate for a lasting solution for their grandchild.
As a result, they have taken the matter to Chief Mutasa's court, where the traditional leader has vowed to see that the teenager is back in school.
In an interview, Chief Mutasa said:"I adjourned the matter to December 2. The matter has been dragging for too long because the culprit who is the teenager's grandfather's brother is playing hard to get.
"However, we will make sure that he will be available at the next hearing on December 2 because we cannot continue watching this innocent soul being tormented like this while his peers are in school," he said.
In an unsolicited interview with The Weekender last week, the teenager's grandfather, Claudio Madiro, said when schools opened for this term, they escorted the teenager to a Chimanimani boarding school where he was enrolled, but they were forced to return with him after he manifested and became violent.
"Our dream was to send our grandchild to a good school so that he gets the best education, but the spirit that possesses him does not allow him passage to any school premises.
"He should be in Form Two, but he has not seen any classroom door since we enrolled him for Form One last year. We have tried everything, but each time he gets to school, a dead man's spirit manifests on him. He becomes violent and attacks other schoolchildren. He is now traumatised.
"The last time we tried escorting him to school, we did not pass the tollgate just outside Mutare as he started manifesting and demanded to be taken back home," said Claudio.
He said they have tried home schooling the teenager, but the spirit also bars him from that as well.
The family appealed to anyone who might help the teenager spiritually so that he goes back to school.
"We have been everywhere with no joy. I have tried to reason with the avenging spirit to target me, but it flatly refuses. We are suffering, yet it was my brother who killed the man in question. Since my brother is refusing to carry his cross, it is better that the spirit torments me and not my grandchild, please help me," cried the man.
Claudio believes that his grandson is being haunted by the spirit of a dead prisoner, Tapiwa Pukeni, who was allegedly killed by Danwell Madiro.
Danwell was employed as a prison guard at Hwahwa Prison when he allegedly killed Pukeni years back.
"The avenging spirit possesses my grandchild and identifies itself as Tapiwa Pukeni who died in prison at the hands of my brother, Danwell, at Hwahwa Prison.
"As a result, my grandchild has not been visiting the toilet for normal defecation. It started when he was in Grade Five. He had to finish his primary school education from hospital beds, studying online," he said.
Claudio said a catheter and a tube had to be inserted into his grandson's body to allow him to dispose waste from his body as he spent three years in that condition.
"The spirit forbids us from visiting Pukeni's Chipinge home in the absence of Danwell. However, Danwell has refused to accept responsibility of Pukeni's murder," said Claudio.
He said they have sought the assistance of more than 30 traditional and spiritual healers and lost a lot of money in the process, but none of them was able to exorcise the spirit as it continues demanding Danwell's presence.
"The money that we have used to consult different traditional healers is enough to buy a new haulage truck. Had Pukeni's spirit allowed us, we would have appeased him without Danwell, but it is adamant that he be present," he said.
Claudio added: "Danwell disappeared in June and my grandson is suffering. My other grandchild has developed the same condition. I am afraid that if there is no remedy, deaths will be recorded in the family."
In June, Chief Mutasa offered to escort the family to Pukeni's family in Chipinge.
However, Danwell failed to show up on the day they were supposed to travel with the chief.
Danwell confirmed that he was once a prison guard at Hwahwa Prison when he appeared before Chief Mutasa's community court.
However, he insisted that he never killed Tapiwa Pukeni. In fact, he says he doesn't even know the name.
Danwell accuses his brothers of working in connivance with traditional healers to implicate him in Pukeni's murder.