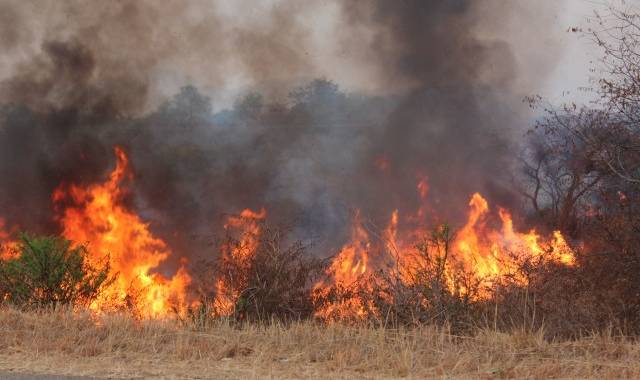 The ManicaPost
Tendai Gukutikwa
Post Correspondent
MANICALAND has recorded a 12 percent increase in veld fire incidences since the start of the fire season, losing a total of 15 952.2 hectares in just five weeks, the Environmental Management Agency Provincial manager, Mr Kingstone Chitotombe, has said.
The veld fire season stretches from July 31 to October 31 every year.
Mr Chitotombe said a total of 54 fire incidences have so far been recorded in Manicaland since July 31, marking a sharp increase from 2020 when only 23 incidences were reported during the same period.
A total of 14 224.47ha were destroyed by veld fires last year.
Among the properties lost during the five-week old veld fire season are 130 000 tonnes of maize worth $50 million, three hectares of citrus plantations, a vehicle and huts among others.
He said the sharp increase is due to the increased biomass attributed to the good rains received during the last farming season.
"The country's agricultural yield projection for the 2020/2021 season indicates a bumper harvest, one of its kind in 37 years, but it comes with its own climate change consequences.
"Following the heavy rains, there is high biomass even in areas that traditionally have low biomass. Therefore, the province is highly vulnerable to veld fires in this year's fire season.
"Districts at extreme risk are Makoni, Chipinge, some parts of Chimanimani and Nyanga," he said.
Mr Chitotombe also said the 2021 veld fire prediction undertaken by EMA shows that the country is generally in the high risk to extreme risk category, compared to the medium to high risk category recorded in 2020.
"EMA undertook a veld fire prediction using biomass as indicated by the Normalised Difference Vegetation Index (NDVI) as a proxy for fuel load and the previous fire behaviour as indicated by the burnt area in 2020 shows that the country is generally in the high risk (65.2 percent) to extreme risk (24.7 percent) to veld fire, compared to medium (43.3 percent) to high (23.1 percent) risk categories in 2020," he said.
Mr Chitotombe urged timber companies to take a leading role in fire management and incorporate community leaders in the education and prevention of veld fires.
To curtail veld fires, EMA is conducting comprehensive farm to farm monitoring programmes to raise awareness, checking the status of fire prevention measures in veld fire hot spot areas as well as compliance of farmers that were served with orders to create fire preventative measures.
To date, 32 farmers without fire preventative measures like fire guards have been fined.
"Farmers and all other property owners should know that it remains a punishable offence to be found without a fire guard during the fire season. Farmers must continue to engage in activities that reduce the amount of standing grass in their properties such as hay bailing or harvesting thatch grass for commercial purposes," he said