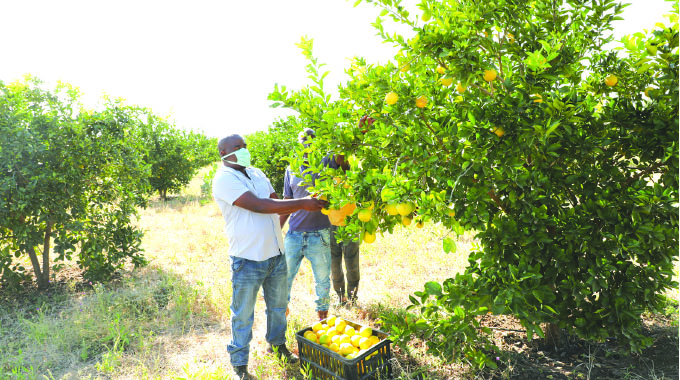 The ManicaPost
Rumbidzayi Zinyuke Senior Reporter
AS far as religious groupings go, the different apostolic sects that exist command a huge following, not only in Zimbabwe, but across Africa.
In the past, the image that everyone had of the vapostori, as they are known, is that of people in white flowing garments who walk barefoot or in a pair of worn-out sandals.
Others were known as the best tinsmiths in town. But times have changed. Or should we say the vapostori are out to dismiss the skewed view of their religion.
For the Johanne Marange Apostolic Church, farming is a way of life. It is a skill passed down from generation to generation.
The name Mutumwa Noah Taguta is known across the whole country and regionally. That name is synonymous with holiness and power.
Mutumwa Taguta, the leader of the Johane Marange Apostolic Church, is a revered character. His huge family does not survive on hand-outs, but hard work.
According to his son, Tinashe Taguta, who runs the Taguta Cattle Ranch in Chipinge, farming has always been a way of life for his family.
He said the idea that vapostori only know how to do menial jobs is a misconception.
"We have always been farmers. In fact, my father, Mutumwa Noah has a Master Farmer certificate he attained before I was even born. Agriculture is what he does, he has never done anything else. Farming is part of our lives. Everything else will come, but agriculture is our forte," he said.
He said their children learn farming from an early age. They are nurtured to become farmers because they believe that nothing comes for free.
Tinashe said he grew up working the land and his children will continue doing so.
"At school, I never did agriculture as a specialty. I only had the basic education, but I use the experience I got from my father to run this ranch. Recently I started doing short agriculture courses to beef up my knowledge. Even my kids are learning from me. We work as a family and they will grow up knowing that they should work the land in order to survive," said Tinashe.
However, this culture is not limited to the Taguta family only. All church members are encouraged to work hard.
"They are encouraged to take farming seriously. But it is not everyone who likes it, some decide to take a different path from ours, but most of them take it up," Tinashe said.
The Taguta Cattle Ranch sits on 1 000 hectares of land in an arid area where crops cannot thrive, except under irrigation. But just because the area does not receive as much rain as other parts of Chipinge does not mean they just sit and wait for the cattle to be taken to the market.
Tinashe revealed that they have opened up some land at the ranch to grow crops to help sustain operations.
"We got this farm as a cattle ranch, but with time we realised that the land is also good for crop farming, so we are slowly doing that," he said.
Besides maize, they have ventured into cotton under the Presidential Inputs Scheme.
Although they have been affected by drought in the past three years, the Tagutas now have 25 hectares under cotton and are expecting a yield of eight bales per hectare.
According to Tinashe, had they irrigated their cotton, they would get at least 10 bales for every hectare and even increase the area under cotton.
They have also put 10 hectares under wheat.
Add to that, a citrus project is blossoming.
Tinashe reported that the project is still small but it has potential to reach 3 000 trees that would eventually make them a big supplier of oranges to the Chipinge and Mutare markets.
"We can grow this project if we invest in irrigation equipment. For now, we have 700 orange trees and we got our first fruit this year. We hope to start selling to supermarkets once we have a proper marketing strategy. We will even export in future," said Tinashe.
While all these projects were not part of the initial plan for the farm, it just goes to show that you can't keep a good farmer down.
The vapostori are working the land wholeheartedly and will continue doing so for many years to come. Like Tinashe said, vapostori are farmers through and through.