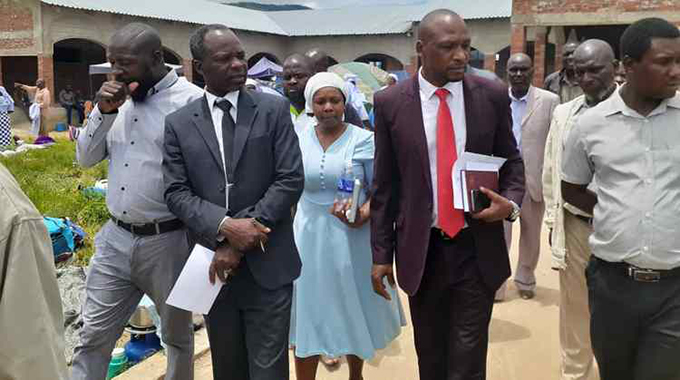 The ManicaPost
Ray Bande Senior Reporter
RESIDENTS of the sprawling high- density suburb of Hobhouse in Mutare will soon heave a huge sigh of relief when Feruka Primary School officially opens its doors to the public.
The school is being constructed by the Gospel of God Church.
Children from Hobhouse are being enrolled in Dangamvura while some are attending schools in town owing to a shortage of schools in the suburb.
Although no date was given as to when the school will open its doors to the public, a tour of the school on Sunday with the officials from the church, indicated that the paperwork was being finalized.
The chairperson of the project, Mr Jonathan Matanhire, said they were also facing water problems during construction.
"We are happy with the progress that we have made with regards the construction of Feruka Primary School and we hope to open its doors to the public soon.
"We can now safely cater for ECD A and B, but we are preoccupied with the paperwork. We sincerely hope that we will be able to cover that in the near future so that residents in this suburb (Hobhouse) benefit from our efforts.
"Upon completion the school will be able to cater for ECD A and B, Grades 1 to 7 with two classes per stream. So far we have constructed four classrooms and 16 toilets out of the targeted 16 classrooms, 29 toilets and an administration block," he said.
The deputy director in Minister of State for Provincial Affairs, Mr Lucky Basopo, applauded the gesture by the church.
"We are really grateful to the Gospel of God Church for complementing Government efforts in enhancing the provision of quality education to our citizens.
"The church has played a big role in the education sector and it is pleasing to note that it continues to do so. More so, when we have apostolic sects coming in to join hands with their counterparts in helping Government in provision of quality education, and that is commendable," he said.
Mutare Mayor Councillor Blessing Tandi said: "We are equally excited about this development as a local authority. It helps fulfill our mandate.
"To that end, we sincerely pledge our assistance in every respect within the confines of the local authority's jurisdiction.
"For example, you talked about  water supplies. We will sit down as a council and see how best we can assist. We will do the same for every other request that you will place before us."