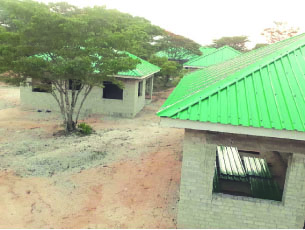 The ManicaPost
Lovemore Kadzura
Rusape Correspondent
MAKONI District is set to make history following the commencement of construction work on the US$60 million multi-discipline sports complex, the first of its kind in Zimbabwe and Africa at large, Post Sport can reveal.
The Maire Sports Institute, a joint venture between the Sports Leaders Institute of Zimbabwe and Makoni Rural District Council, sits on 40 hectares of land in Maire Village.
Funding for the project, which is expected to be completed in the first quarter of 2023, was sourced from a Pan African banking institution.
The sports complex, which is of international standards, has features such as sports fields, a shopping mall, lodges, chalets, conference centres and campsites.
Eight hectares have been set aside for a game reserve where a variety of wild animals will be kept.
The institute is expected to host visiting international teams that will be playing against local clubs and national teams.
Clubs and teams on pre-season tours and camping will also be hosted at the institute as the facilities and services will be of international standards.
Local clubs and teams can also use the complex for camping.
Zimbabwe has been losing potential revenue due to non-availability of such facilities especially in resort areas such Victoria Falls, Kariba, Nyanga and Chimanimani among others.
The coming in of Maire Institute which is located between Rusape and Nyanga is a big game changer to sports tourism.
Makoni Rural District Council chief executive officer, Edward Pise said Government approved the partnership and the development will change the face of the district and put them on the international sports map.
He also said the complex will also serve as an incubation hub for budding sports personnel and administrators from the village up to international levels.
"Makoni Rural District Council has entered into a partnership with the Sports Leadership Institute of Zimbabwe to develop a first of its kind multi-discipline sporting complex. The complex will have infrastructure to cater for all sports codes such football, tennis, hockey, rugby, cricket and swimming among others. This kind of investment will awaken Maire Village and change its fortune for good.
"The entire project is worth US$60m and funding was sourced from a Pan-African financial institute. We have availed 40ha of land. Dormitories, lodges, chalets and a shopping mall will be constructed at the complex.
"Boreholes have since been drilled, workers' quarters and the site engineer's houses have been completed, and we moving to other structures. A lot of local people will be employed during the construction of the complex and after its completion.
"We have engaged partners from Sweden and Switzerland who will assist in marketing the institute in their countries. They will help in organising teams in their country to come and camp at the complex," said Pise.
Sports Leaders Institute of Zimbabwe president, Russell Mhiribidi said they chose Makoni District because of its fine weather which is suitable for sportspersons' development.
"It is a sports high performance centre in the Eastern Highlands of the country because of the high altitude of 1 700 above sea level. This is very good for athletes' development in terms of altitude. This will help the athletes to increase their endurance capacity. This is why in countries like Ethiopia and Kenya their athletes perform well at international tournaments because altitude is above 3 000.
"Our objective is to offer world class training facilities for athletes' long term development. Zimbabwe is endowed with a lot of talented athletes, but they lack proper long term development. Our target is both local and international athletes because this centre is the first of its kind in Africa targeting all sports codes.
"We will also have a sports science testing laboratory to test our athletes scientifically to detect their potential growth. There will also be sports management courses on offer for administrators and aspiring sports leaders," he said.
Mhiribidi added: "To complement sporting activities, we have reserved 8ha for a game reserve and we are working with the Department of Parks and Wildlife to set it up. We will also set up an Africa Hall Of Fame and Sports Museum. Our kids do not know much about African sports history, but are well versed with European and American sporting history."