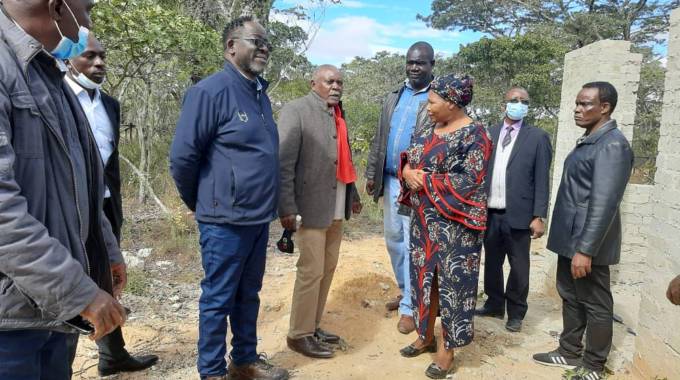 The ManicaPost
Lovemore Kadzura
Rusape Correspondent
MINISTER of State Manicaland Provincial Affairs and Devolution, Nokuthula Matsikenyere, has commended the Maire High Performance Centre and Resort Estate which is under construction in Makoni District, describing it as game changer in economic development and sports tourism for the country.
Matsikenyere last week had a familisation tour of the massive project which is a joint venture between the Sports Leaders Institute of Zimbabwe (SPIZ) and Makoni Rural District Council.
SPIZ who are financing the project have an equity of 70 percent and Makoni RDC which availed 60 hectares of land for the project holds 30 percent.
The first of its kind facility in the country will comprise a shopping mall, an administration block, conference centre, a 10 000-seater stadium, various sporting fields, hospital, dormitories, chalets and a game sanctuary.
A golf course and holiday homes will also be set up.
"I am greatly honoured to be invited to familiarise myself with this huge investment taking place in Makoni District. The investment has come at the opportune time when President Mnangagwa has made a clarion call that 'Zimbabwe is Open for Business'. The beauty of this investment is that it is being spearheaded by our local people.
"This centre will be used for international sporting events. The intention is to attract international teams to visit Zimbabwe during their off-season breaks and use these facilities to loosen up as holiday homes are also planned around this facility.
"The project is expected to employ 700 people when complete. Farmers around will also benefit immensely as they will be contracted to supply vegetables, pork, chickens and beef. The project is a game changer and shall help Makoni in the rural transformation agenda. I am happy with this massive development which I shall relate to President Mnangagwa for him to come and witness this unique development," said Matsikenyere.
SLIZ president, Russel Mhiribidi, a former basketball player and a renowned administrator of several sports codes who is spearheading the US$60 million project, said the centre will be fully functional by December 2023.
"We are targeting that by December 2023 we will be done with all the work that is required here and we will be fully operational. We will combine sports and tourism here. Zimbabwe Parks and Wildlife Authority has since issued out licences for game and bird sanctuary. The project has been well received by both local and foreign teams, and we are receiving enquiries everyday," said Mhiribidi.
Makoni RDC chairman, Guy Mutasa said the project which falls under their business arm, Maungwe Investments is a testimony that local authorities can enter into successful public private partnerships with investors.
"This is a milestone achievement, not only for Makoni District, but the province at large as this project is of international standards. Our council values PPPs, a reason why we embraced SLIZ after they were frustrated somewhere. Our council is attending to all business proposals with a sense of urgency because investments of this nature bring a lot of benefits to our people," said Mutasa.