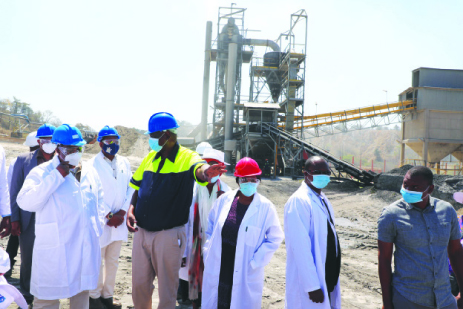 The ManicaPost
Samuel Kadungure
Senior Reporter
MASSIVE plans are afoot to inject at least US$20 million into the expansion and upgrading of Dorowa Minerals Mine in Buhera.
The strategic move is aimed at boosting phosphate and magnetite production as well as conducting geological survey to ascertain the total ore reserve for future planning.
Chemplex Corporation acting chief executive officer, Mr James Chigwende, told The Manica Post in a recent interview that US$13 million will be invested to upgrade the plant at Dorowa to ramp production to 150 000 metric tonnes by end of next year.
"On the phosphates, our grand plan is to go back to full capacity of 150 000 tonnes — so we have a US$13 million project to bring that capacity back, and we believe by the end of next year we will have done that. After doing that we will be able to supply phosphates for fertiliser as well as fertilisers for pastures. We will also be able to export to Zambia, Malawi and Mozambique," said Mr Chigwende.
He said another US$2 million would be injected to enhance magnetite processing, drying and bagging for export.
Magnetite is a by-product of phosphate, and has huge demand in Mozambique and other countries.
"Occurring with the phosphates is magnetite, and we want to put a plant for US$2m for processing, drying and bagging.
"That will raise our production to over 72 000t of magnetite per year, and this product has a ready market in Mozambique of up to 6000t per month. We have resources in our dump where we can set up another plant to do magnetite that we will export overseas. The orders are already there and we just need to put up the capital equipment," he said.
Mr Chigwende added that another US$5 million will be used to conduct a geological survey to ascertain the total quantity of the ore reserve at Dorowa and Shava mines.
He said they are currently relying on limited study findings.
"We have not quantified in full our resources of phosphate and even magnetite, so we want to conduct a geological study that will cost us between US$3 million and US$5 million. This will then give us an assurance of total quantity of the ore reserve.
"The 200 million years mentioned is based on a limited study, and is far less than what we expect because we only dig up to 20 metres to establish that resource content.
"We believe there is much more, and there is capacity to do that.
"That plant will be producing an excess of one million metric tonnes of concentrate. In that grand project is also food grade phosphoric acid — a high value product which has more export markets than local consumption. Food grade phosphoric acid is now being used in beverage, food, yeast and all other products. We will also exploit another mineral called vermiculite," he said.
Vermiculate is used for fire proofing and insulation.
It also helps to aerate the soil, while simultaneously retaining water and nutrients which it then releases over time.
Vermiculite is therefore useful in seed sowing and propagation, and can also be added to house plant compost.
Mr Chigwende said the lined up projects will increase employment levels, transform and modernise infrastructure at Dorowa as well as enhance downstream industry development.
"The employment level will increase together with the infrastructure as well as what we call downstream cluster industry development.
"All these will be enhanced by the new fertiliser plant we want to put here.
"Phosphate was discovered in two areas, at Dorowa and Shava Mine.
"We have not yet exploited the reserves at Shava Mine where we have inferred resources — those estimated from some other method — which is not a proper bankable study. So we believe if we do a bankable study at Shava Mine we will find vast resources that will take us for the next 100 to 500 years of extraction and exploitation," said Mr Chigwende.
Vice President, Dr Constantino Guvheya Nyikadzino Chiwenga, who toured the plant recently, said Zimbabwe's vision and aspiration to transform agriculture can only be realised if companies like Dorowa Minerals which have an impact on the development of other value chains are adequately supported.
Fertiliser is the biggest single cost for farmers.
Government wants Dorowa Minerals to increase production and export both phosphate and magnetite to take advantage of the trade agreements signed with SADC, COMESA, the Africa Continental Free Trade Area (AfCFTA) and the European Union.
VP Chiwenga said local beneficiation of phosphates will result in massive foreign currency savings through fertiliser import substitution, fertiliser price reduction for the final consumer, employment creation and balance of payment support.