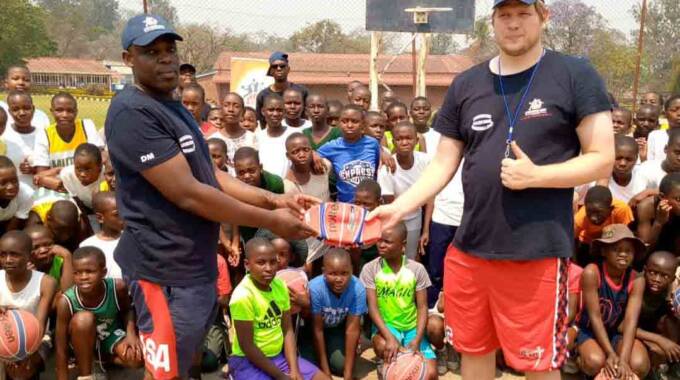 The ManicaPost
Ray Bande
Senior Reporter
A UNITED States of America-based organisation, Sports Reach is embarking on an intensive basketball coaching clinic intertwined with Christian based social teachings meant to benefit learners and teachers from nine schools in Mutare. In conjunction with locally-based After School Hoops Zimbabwe, personnel from Sports Reach engaged in training sessions at Baring Primary School basketball courts in Mutare.
Speaking during the Baring Primary School basketball coaching clinic, Zach Arington, one of the US based trainers, said: "We use sports to connect with people and help bring the gospel of Jesus Christ to all parts of the world. We do camps and coaching clinics.
"We first meet with the teachers and take them through the programme. After that, we mix them with the learners in coaching clinics and then we have time for imparting Christian based positive social skills such as perseverance, integrity and focus.
"This is our third school in the province. We have had at least 180 kids at each camp. The response has been great. We are also happy that some of them are giving their life to Christ, which is most important for us."
Sports Reach, which has strong links with Sonrise Church is based in Kentucky and Ohio in the United States of America.
David Mlambo, founder and chief executive of After School Hoops, a programme started to fight drug abuse and violence among youths, said: "We are here at Baring Primary School as part of a programme that we hope will equip local schools, not only with basketball skills, but positive social messages.
"The participants are being taught crucial basketball skills, but at the same time they have time to listen to Christian based positive social messages that will help fight drug abuse among youths. The positive social messages also carry important messages that discourage child marriages and delinquency.
"The initiative will also see the participating schools getting equipment for basketball training. It will go a long way in enhancing their skills on the court as well as moulding a responsible player and coach."
In a separate interview, one of the teachers who is part of the coaching clinic, Charity Lunga of Joshua Dube Primary School in Dangamvura, said: "We are benefiting a lot in terms of basketball coaching skills. Personally, I have learnt a number of things that I did not know when I came here, hence this is really worthwhile.
"The other good thing about this initiative is that we, as schools will benefit in terms of sports equipment, therefore the initiative is something local schools really appreciate."