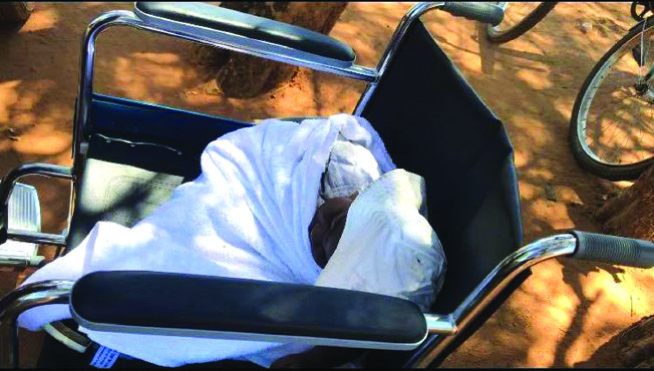 The ManicaPost
Tendai Gukutikwa
Post Reporter
BLESSING'S face is unresponsive; he neither smiles nor laughs.
Whenever he is uncomfortable he cries until his grandmother, Ms Sarudzai Tihwu, picks him up, places him in the large dish that she uses as his carrier and rocks him until he falls asleep.
She cannot carry him on her back as his limbs will not budge.
Like any other child, he is a blessing, but in this case, only to his grandmother.
His then 13-year-old mother, Monica Damba, named him "Blessing" before dumping the newly-born baby at her 50-year-old mother's homestead in Tandi Village, Makoni, before leaving for good.
Blessing is now almost four years old and his teenage mother has never called to check on him or her elderly mother.
Blessing Takunda Magura was named after his father, a teenager, who also fled upon the realisation that his baby had a disability.
The Manica Post learned that Blessing was born with cerebral palsy.
He does not talk, walk or sit properly.
He cannot eat solid foods and survives solely on goat milk.
Sadly, at her homestead, Ms Tihwu does not have any goats.
Recently, Ms Tihwu was instructed by doctors to increase Blessing's milk intake as he is currently malnourished.
Poverty has made it hard for Blessing's grandmother to adhere to the instructions.
Cerebral palsy is caused by damage or abnormal development in the parts of the brain that control movement.
This can happen before, during, or shortly after birth or in the first few years of life when the brain is still developing.
In many cases, the exact cause of cerebral palsy is not known, but risk factors include maternal medical conditions and complicated labour, among other factors.
Narrating her ordeal, Ms Tihwu described her life as hell on earth as she has to scrounge for milk to feed her grandchild daily.
Like the Biblical baby Moses, she carries Blessing in the large dish as she goes around the village begging for milk to feed him.
"I cannot carry him on my back as his limbs are not straight. I place him in a big dish and carry it on my head. I cannot leave him at home as no one cares about him. My husband and sons shun him.
"My daughter disappeared upon the realisation that the child had a disability. Her husband who was employed as a herd boy also followed suit. No one knows their whereabouts," narrated Ms Tihwu.
She said while she is doing all she can to feed her grandchild, doctors have urged her to double her efforts in looking for healthy foods for him.
"Blessing should be surviving on baby formula, but I cannot afford it. I cannot even afford to buy food for myself. He needs clothes and napkins which are all hard to come by. I borrowed the towel that I use to cover him from a neighbour," said Ms Tihwu.
The Tandi community occasionally chips in with milk donations and other hand-outs.
Ward 12 Councillor Esther Kamhera called for more assistance for Blessing and his grandmother.
She also called on the Damba family to treat Blessing like any other human being.
"Blessing's grandfather and other family members call him names. They label him Ms Tihwu's goblin. Ms Tihwu and Blessing have been kicked out of the house on countless occasions, but she has nowhere to go.
"She always begs her husband to be allowed back into the house. She really needs help," said Councillor Kamhera.
The other family members accuse Ms Tihwu of concealing her daughter's whereabouts.
"Ms Tihwu has been everywhere looking for her daughter, but she cannot locate her. The family thinks that Monica secretly sends her mother money for the child's upkeep and this has caused divisions within the family," said Councillor Kamhera.
She said in her ward, at least 30 other children have disabilities, with most of them emanating from cerebral palsy.
However, Blessing was lucky as he was one of the children with disabilities who received wheelchairs from the Diocese of Mutare Community Care Programme (DOMCCP) a fortnight ago.
Ms Tihwu thanked the organisation for lessening her burden as she no longer has to carry Blessing in a dish.
"I am really grateful to DOMCCP as my life will be easier henceforth. I will be able to push Blessing in the wheelchair. He can also sit in the wheelchair while I attend to other household chores.
"My prayer is for my husband and children to accept Blessing as part of the family and not call him names.
"I hope my daughter will one day bounce back and take care of the child," she said.
DOMCCP director, Mr Robert Munhenga said after hearing about the plight of children with disabilities, his organisation decided to source for donations from well-wishers.
"We were alerted of Blessing's plight and we felt that it is our duty to help with the little that we could. It is sad to note that it is not only Blessing who is in this state in the area.
"We identified more than 20 children in the same ward who are all physically challenged due to cerebral palsy and in need of wheelchairs.
"We know that mobility is important and we sourced the donations for the children. So far, 22 wheelchairs have been donated to the children. After sourcing more donations, we will come back and help the remaining children," he said.
While the wheelchair donation will come in handy, a lot still needs to be done to ensure that Blessing leads a comfortable life.
Blessing needs to undergo surgery as he cannot control any of his body parts, including his head, arms and legs.
"If he gets the surgery, I will really be grateful, but currently I am in need of basic things to improve his health.
"I need milk, clothes, diapers and most of all, towels for him, one for his comfort in the wheelchair and face towels to remove drool from his face.
"I love my grandchild and I hope the nation will assist me in taking care of him," said Ms Tihwu.
The World Health Organisation (WHO) estimates that 10 percent of Zimbabwe's population lives with disabilities and that the prevalence of cerebral palsy in the country is estimated to be at 1,55 per 1 000 in rural areas and 3,3 per 1 000 in urban areas.
Those who would want to assist in any way can get in touch with Ms Tihwu through Councillor Kamhera on 0777 801 330.