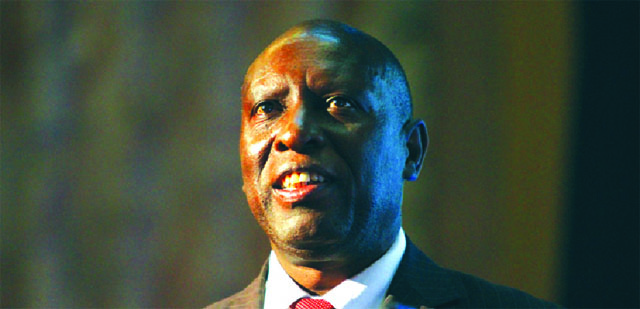 The ManicaPost
Cletus Mushanawani News Editor —
EMBATTLED Zanu-PF provincial chairman, Dr Samuel Undenge, has survived a vote of no confidence petition that was signed against him recently.
Dr Undenge was of late cutting a lone figure at most Zanu-PF meetings as no-one acknowledged his leadership and presence even at the recently held President Youth Interface Rally at Sakubva Stadium where other chairpersons of different party wings were introduced to the thousands of people who filled Sakubva Stadium to the brim.
During the Sakubva rally, Dr Undenge was given a periphery role of giving a vote of thanks after President Mugabe's address.
However, in a turn of events, Zanu-PF national secretary for administration, Dr Ignatius Chombo recently instructed his provincial counterpart, Cde Kenneth Saruchera to inform all provincial co-ordinating committee members in Manicaland that the vote of no confidence against Dr Undenge was null and void.
Although Dr Chombo was not picking up his phone since Tuesday afternoon, a memo signed by Cde Saruchera dated June 26, 2017 and addressed to all PCC members, which this paper has in possession read: "The national secretary for administration, Cde ICM Chombo informed me to advise you of the following: (1) the vote of no confidence passed against Cde Dr S Undenge, provincial chairman did not follow proper procedure and therefore is null and void, (2) Cde IMC Chombo and Cde P Chinamasa agreed that the issues raised should be resolved by the local leadership led by Politburo members and (3) meanwhile, the legal position concerning the chairman is that Cde S Undenge is the Manicaland provincial chairman."
The memo was also copied to Dr Chombo and Cde Chinamasa who is the national secretary for legal affairs. Dr Undenge referred all questions to Cde Saruchera who was not readily available for a comment.
Addressing a President Youth Interface Rally preparatory meeting at Mutare Polytechnic recently, Cde Chinamasa acknowledged the leadership challenges in Manicaland and said the local Politburo members would look into the issue.
"We are aware that there are some issues regarding the provincial leadership in Manicaland, but we will sit down with fellow Politburo members among them Cdes Oppah Muchinguri-Kashiri, Chris Mushohwe and Kudzi Chipanga and deliberate on the way forward. We will advise you on the outcome of our deliberations," said Cde Chinamasa.
In April after Provincial Executive Committee and PCC meetings held in Mutare, provincial vice-chairman, Cde Jospeh Mujati addressed a Press Conference where he announced that a vote of no confidence had been passed against Dr Undenge.
Cde Mujati was flanked by women's league's provincial vice-chairperson, Cde Betty Benge and youth league chairman, Cde Mubuso Chinguno when he announced the vote of no confidence on Dr Undenge.
Among the allegations that were levelled against Dr Undenge was that he was creating parallel structures in the province by imposing shadow members of National Assembly in constituencies where there are legitimate Zanu-PF MPs.
A petition was also drafted which tabled the allegations and some of them read: "He is highly incompetent in that he failed to conduct meetings as set out in the party constitution. He has been denying (sic) provincial members from holding meetings during his absence. He has allowed a situation to prevail (sic) whereby his wife Cde Lettina Undenge has been interfering with the day to day running of the province. Cde Undenge and his wife have been firing and imposing preferred members to further their personal interests. Cde Undenge and his wife have been using money to divide the PCC."