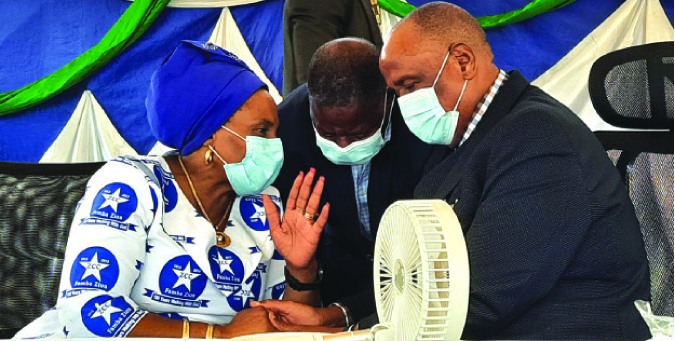 The ManicaPost
Ray Bande
Senior Reporter
INFORMATION, Publicity and Broadcasting Services Minster Senator Monica Mutsvangwa will pay school fees and buy stationery and uniforms for three of the children whose parents perished in the Zion Christian Church (ZCC) bus disaster in Chimanimani.
Sen Mutsvangwa will also provide groceries to five women who were widowed during the April 14 calamity.
The minister made the pledge during her touching speech at the memorial service for the victims of the road accident which occurred on the eve of Good Friday.
The St Charles Lwanga deputy headmaster and a total of 37 ZCC members, who were travelling to Masvingo for an Easter gathering, perished in the accident.
The 38 comprised 23 women, six men and nine children.
Twenty-nine of the victims died on the spot, while nine died while admitted in hospital.
Thirteen are still admitted.
After ZCC's community social responsibility arm, Rugare Community Relief Services (RUCORS) was deployed to assess the needs of the affected survivors of the accidents, it emerged that five women had been widowed.
Nine men lost their wives, 18 children lost their fathers, while 43 children lost their mothers.
Two children lost both parents, while an entire family perished.
Seven parents lost their children.
A total of 63 children — with the youngest being three-months-old — were affected by the disaster.
It is against that background that Sen Mutsvangwa pledged to provide for some of the affected women and children.
She said grocery hampers would be sourced for all the accident survivors.
"When this accident happened, I lost my grandchild through an accident as well. My children were involved in an accident, resulting in the death of my grandchild. Some of the survivors of that accident are still in hospital," said Sen Mutsvangwa.
"I was deeply touched by the events that occurred on the eve of Good Friday. This is why I have taken it upon myself to source for school fees for three children.
"I will also fund some income generating projects for the five widowed women. We will continue to explore ways of assisting the survivors, including sourcing grocery hampers for them," she said.
Speaking during the memorial service, Zimbabwe Indigenous Interdenominational Council of Churches president, Prophet Andrew Wutaunashe said the church community stands in solidarity with the bereaved ZCC members.
"You are not alone in your mourning. When we heard of this calamity, we were in a different programme, but we had to stop and pray for Bishop Mutendi and the church to be strong," he said.
ZCC leader, Bishop Nehemiah Mutendi thanked all organisations and individuals that have come in to assist survivors and the bereaved.
"I am truly humbled with the assistance that our bereaved church members as well as the survivors are receiving from different sectors. This is a true demonstration of Ubuntu. We truly appreciate that as a church. "We continue calling on our bereaved church members to find comfort in the Lord and those who were injured, 13 of them still in hospital, to continue accepting our Lord's healing," he said.
Young Women for Economic Development pledged to take care of one of the affected children's needs, while Chimanimani East legislator, Honourable Joshua Sacco and Acting Chief Saurombe also pledged to take care of one child each.
Higher Life Foundation and Red Cross are among a host of charity and civic organisations that have chipped in with assistance.