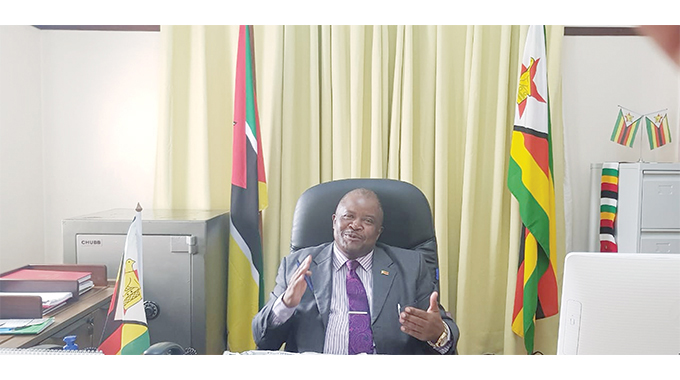 The ManicaPost
Rumbidzayi Zinyuke
Senior Reporter
ZIMBABWE and Zambia need to work together to address challenges that are affecting the movement of people and goods from the Port of Beira to the two countries to enhance economic and diplomatic relations.
This was said by Zimbabwe's Ambassador to Mozambique, Ambassador Douglas Nyikayaramba following the Zambian High Commissioner to Mozambique, Ambassador Paul Lumbi's visit to his offices.
Ambassador Nyikayaramba said the meeting discussed various issues, including the enhancement of economic development, the security of both countries' citizens, and the welfare of truck drivers along the Beira-Machipanda and Tete-Nyamapanda highways.
On economic co-operation, Ambassador Nyikayaramba said the proposed high speed railway line to link Zimbabwe, Zambia and Mozambique is strategic as the infrastructure will establish Zimbabwe as the business hub of the Sadc region due to its geostrategic position.
Currently, Zimbabwe and Zambia are both facing challenges in the transportation of goods from the Indian Sea Port of Beira.
Ambassador Nyikayaramba said transporters have raised issues of delays experienced at Beira, which sometimes result in the expiry of their 14-day Temporary Import Permits (TIPs) before loading.
After loading, transporters also have to contend with delays along the highway due to numerous checkpoints as well as paying heavy penalties for failing to meet the 21-hour transit time.
"As landlocked countries, we are all served by the Beira-Machipanda and Tete-Nyamapanda corridors in the movement of our people and haulage.
"Too many roadblocks along the highway delay the swift movement of goods. Inevitably, transporters end up incurring additional costs pertaining to the welfare of their drivers and other costs brought about by the delays," said Ambassador Nyikayaramba.
He said the meeting with Ambassador Lumbi also touched on the reported attacks on commercial trucks and passenger vehicles.
"In our discussion, we shared notes on commercial trucks' attacks along the Machipanda Highway.
"This poses security risks to Zimbabwean and Zambian drivers. It is also a risk to the shipping and freight business.
"There are also no secure truck stops along the way. Theft of computer boxes (ECMs) on trucks are experienced everyday as there is no secure parking," he said.
The Ambassador said the security issue was initially raised by transporters in 2017 during a baseline survey on the Beira Development Corridor.
The Ministry of Industry and Commerce conducted the study to identify ways of removing barriers to the speedy movement of goods and people along the Beira Corridor.
Ambassador Nyikayaramba said relations between Zimbabwe, Zambia and Mozambique are sound.