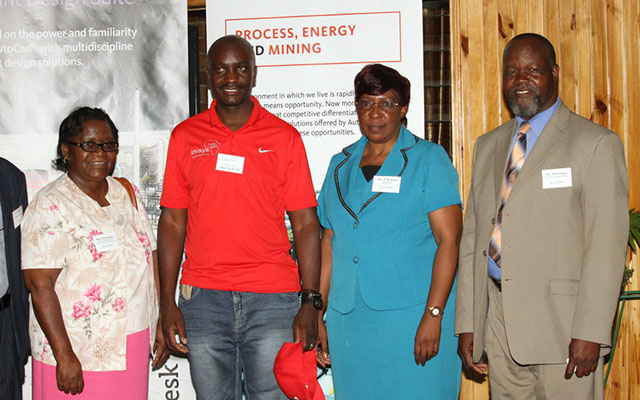 The ManicaPost
Admire Masuku & Virimayi Nzira
In this era when technology is fast becoming a determinant of success, and when learners are increasingly becoming tech-savvy, designers of teaching methods should think seriously about the medium of instruction.
The medium is the message.
One such field where this has become a necessity is in design technology.
Blended learning — the thoughtful integration of classroom experiences with technology-enhanced learning experiences – has taken over the field.
This has seen the birth of a new crop of engineers who have created computer aided classy simulation of real structures.
For years the drawing board had become a permanent feature for students involved in engineering, construction and architecture. Lecturers too relied on pirated software to teach students.
But thanks to an academic partnership between polytechnics, teachers colleges and industrial training centres and Advance Design Systems (ADS) – the authorised trainer and distributor of Autodesk software products in Zimbabwe – things are changing.
"As the country embraces STEM concepts, there is a need for networking to facilitate cross-pollination of ideas. This Public Private Partnership (PPP) will give us exposure through the use of the latest licensed software, professional training and international certification of lecturers who are the implementers of the STEM programme," says Mrs Poniso Watema, the Principal of Mutare Polytechnic.
ADS recently held a national launch of the partnership with Autodesk which was attended by industrialists, lecturers and administrators from various tertiary institutions at Mutare Polytechnic.
Speaking at the launch, Mrs Dephine Zivanayi, the acting director of tertiary education programmes in the Ministry of Higher and Tertiary Education, Science and Technology Development, said technology should be the focus of training.
"What our educational institutions need to do is to increase enrolment in STEM subjects.
Technology should be part and parcel of every academic institution in Zimbabwe because technology and engineering have for long been lagging behind," she said.
The partnership will see ADS training lecturers and students on how to use Autodesk International's AutoCAD software for designing and drafting.
Autodesk is an American multinational software corporation – with offices worldwide including in African countries like Mozambique, Botswana, Zambia, Zimbabwe and South Africa. It makes software for architecture, engineering, construction and manufacturing industry.
About 140 lecturers from polytechnics, industrial training centres and teachers' colleges have received training from ADS on how to use the software package.
The prevailing economic challenges have affected public institutions' ability to deliver quality training on their own. The emergence of corporate-academic partnerships is a welcome development.
Forging mutually beneficial partnerships with technology companies is proving to be an economic and sustainable way of addressing shortage of resources.
It costs $ 180-00 to complete three levels of AutoCAD training at any local institution which is a partner of Autodesk over a period of 2 years.
But the price of learning outside the academic partnership is quite high. It costs $ 1050 to complete the levels of AutoCAD training if one is not a student at an academic partner of Autodesk.
Technology is becoming ever more interwoven into the fabric of academic life.
As more and more countries migrate from traditional commodity economies to knowledge-based economies and ultimately industrialised economies, technology has assumed an important transformative role as the centrepiece of progress.
It is anticipated that the use of AutoCAD will result in improved quality of graduates produced by technical and vocational training institutions.
Mutare Polytechnic principal, Mrs Poniso Watema agrees: "This initiative will enhance and transform the quality of graduates from our polytechnics by giving them a competitive edge in the global village."
The software has tremendous benefits for students and lecturers involved in design technology.
David Ngandu, ADS technical director says AutoCAD saves time and improves the quality of designs.
"The software allows one to make easy alterations on a drawing and to avoid repetitive tasks. One can easily duplicate a structure rather than re-drawing it over and over again,'' he said.
Mr Ngandu added: "AutoCAD also comes with the 3-D modelling and simulation features which enable designers to simulate real life features for conceptualisation and presentation.
" It helps students to visualise their final projects and see how they will look when completed thus enabling them to check whether they took all the necessary steps before finishing the project."
Before the partnership with Autodesk, most institutions used to grapple with challenges of using the drawing board and pirated software.
As a result, students would graduate without getting the opportunity of using licensed software or putting their ideas into products.
Says Mr Ngandu: "The manual drawing board system was too limiting for both students and lecturers. Drawing used to be a laborious and time-consuming exercise which left very little time for students to concentrate on the art of designing," he said.
Without appropriate designing tools, poor workmanship and frustration would easily creep in.
"Most students resorted to doing simple and uninspiring concepts for their final projects. But now they can design bigger projects such as hospitals and shopping malls," said Mr Ngandu.
Human beings are animals of habit.
At first, most instructors treated the technology with trepidation.
But institutions that embraced Autodesk are now enjoying the benefits.
Harare Polytechnic was one of the early implementers of the partnership with Autodesk.
Mr Charles Danga, a lecturer in the Mechanical Engineering Department, says: "The partnership with Autodesk has helped us in bridging the skills gap between training and Industry.
The intervention could not have come at a better time. This is especially so because our Ministry is looking for interventions that ensure that students churned out by institutions have critical skills required by industry and help the country realise Its Industrialisation agenda."
ADS also has a presence in leading Secondary schools such as Prince Edward, Gate Way, Mazoe High and Lomagundi College where it has helped set up Computer Aided Design (CAD) clubs.
Teachers in charge of technical drawing say the AutoCAD software has transformed the learning process.
Miss Beauty Sekererayi Mapata, the head of technical department at Prince Edward School says: "AutoCAD has made life very easy for our students. Diagrams are more accurate because you do not calculate scale, it comes with the software. A lot can be done using the software."
Mrs Mapata says the software promotes adaptive learning and facilitates a culture of participatory learning.Mrs Grace Molife, the head of department for practical subjects at Gateway High School says AutoCAD has made students appreciate technology better.
"The use of the electronic drawing board has certainly made teaching and learning design and technology more exciting. It enhances the teaching of concepts in many ways – it saves time, storage of work is easy and making alterations is fast," she said.
She says the software suit has also helped schools to better prepare their students for tertiary education programmes.
"The software packages we are using – AutoCAD, Revit and Inventor – equip students with the fundamentals they need in preparation for architectural, engineering and graphic design programmes at tertiary institutions."
As an influential player in engineering, architecture and construction industry, ADS's influence extends beyond academic institutions.
It has also entered into partnerships with a number of local companies. To date, it works with over a dozen companies including Green Fuel Limited, Hippo Valley Estates and the Civil Aviation Authority of Zimbabwe (CAAZ).
Mr Marshall Hove a civil and structural engineer with TJ Associates structural engineers says partnering ADS has improved their work as a consultancy company.
"Previously, we used a pirated version of AutoCAD.
"We then decided to partner Advanced Design Systems and now that we are using Autodesk legally, the benefits have been tremendous.
"Not only do we get licensing and certification, but we also get training on how to use the software correctly on top of being given free advice, updates and backup services for any complications,"
Industrialists say it is imperative for institutions to partner companies such as ADS as they help them produce quality human resource for industry.
Mr Edmond Chinyadza, a civil engineer with the Civil Aviation Authority of Zimbabwe (CAAZ) says AutoCAD promotes collaboration among students.
"The software allows one to network with other professionals in related fields. Students from one department can collaborate in coming up with designs with others from another department using the software. This gives them valuable experience since that collaborative approach mirrors the kind of environment that obtains in the industry," he said.
However, as more and more institutions invest in teaching technologies and embrace STEM, there are growing calls by educationists for a complete overhaul of the tertiary education curriculum.
Those calling for the review of the curriculum argue that it is too rigid and does not give enough room for innovation.
Mr Roy Mavunga, the principal of Kushinga Phikelela Polytechnic, supports the call for curriculum review.
"Our curriculum now needs to be revisited because it currently contains a lot of subjects which are irrelevant when it comes to the issue of Autodesk training. Training in educational technologies such as Autodesk should be introduced at an early stage in a student's educational life so that by the time they get to tertiary level they are already familiar with such software."
The call comes after Professor Jonathan Moyo, Minister of Higher and Tertiary Education, Science and Technology Development has made several calls for revamping the education system to answer to the needs of the country.
Since then, debate on the need to recalibrate Zimbabwe's educational system continues to rage.
This is fanned by challenges facing the Zimbabwe economy such as closure of industries and the fact that educational institutions are churning out graduates without the correct skills needed to revamp the economy.
As Zimbabwe implements critical transformative policies such as STEM and the Zimbabwe Agenda for Sustainable Socio-Economic Development (Zim Asset) there is need to invest in critical educational technologies that assist in economic transformation.
"As training institutions, our duty is to produce competent graduates for industry instead of giving employers the extra burden of re-training our products.
"We are supposed to take these partnerships seriously and invest in this area as much as we can," says Mr Evans Musara, the Acting Principal of Masvingo Polytechnic.