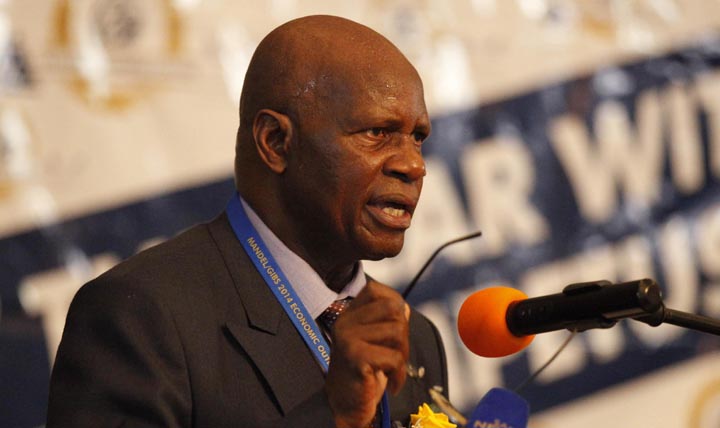 The ManicaPost
Cletus Mushanawani
Zimbabwe will soon introduce vehicle tracking devices at major border points to monitor movement of some trucks who falsely declare that they have goods in transit, yet they are destined for the local market.
Speaking during a Zanu-PF extra-ordinary provincial coordination committee meeting at Mutare Polytechnic College yesterday, Finance and Economic Development Minister, who is also Zanu-PF Politburo member, Cde Patrick Chinamasa, said they had come up with a priority list of imports that are of great importance to the country.
"We are continuously losing out money to bring cheap imports into the country. We are using a precious currency, which is the United States dollar. Its affirming against regional currencies has brought a lot of challenges to us. Zimbabwe is now the most expensive country in terms of production. We are unable to export and every country now wants to export to us. This is resulting in the available money being mopped out of the country.
"All importations of cheap goods should stop. No for $1 for two items. We have realised that some trucks are making false declarations at our entry points. They lie that they have goods in transit to neighbouring countries, yet the goods will be destined for the local market. We will soon introduce tracking devices to monitor the truck movements. Imports of agricultural produce were banned, but you still find them flooding our local markets. The country is now self-sufficient to produce some of its basic agricultural produce, so why should we continue importing these goods?" he said.
Cde Chinamasa allayed fears of the return of the Zimbabwean dollar and said: "When new things are introduced there is always a lot of scepticism. Most of us still have sad memories of the hyper-inflation era where our investments were wiped out. Those saying they do not want the introduction of bond notes are thinking that their introduction signals the return of the Zim-dollar, but I want to assure the nation that our local currency will not be reintroduced in the near future.
"The Zim-dollar can only be returned when we have enough gold reserves to support it. The bond notes will be supported by a US$200 million Africa Export-Import Bank facility and the bank will not allow us to print more than the $200m mark. We will never do anything that disappoints that bank because they have stood with us for a long time when others were turning their backs on us."
Speaking at the same occasion, Minister of Information, Media and Broadcasting Services, Dr Chris Mushohwe, said the Finance ministry should call for an all inclusive Press conference to tell the world the actual story behind the introduction of bond notes and their benefit to the nation.
"The world should be told the truth. We cannot allow our detractors to use the media to sway people's opinion regarding this important issue which has far reaching benefits to us all as Zimbabweans. The use of bond notes should be enforced because we cannot continue watching the little forex in the country being mopped out," said Dr Mushohwe.