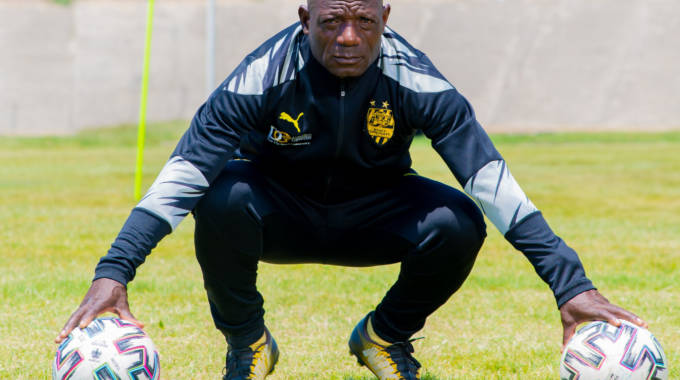 The ManicaPost
Ray Bande
Senior Reporter
MANICA Diamonds coach, Johanisi Nhumwa believes that there is no need for Manica Diamonds family to be too ambitious and ending the season among the top four teams is still good an achievement for the Gem Boys given that the club is only two seasons' old in the top-flight league.
Nhumwa, whose team faces Yadah Stars at Vengere Stadium in Rusape on Sunday after last weekend's away nil-all stalemate against CAPS United at the National Sports Stadium in Harare, has been under immense pressure from fans and club leadership in recent months after the team started dropping points both at home and on the road.
The Gem Boys remain on fourth position, thanks to a superior goal difference as they are tied at 34 points together fifth placed, Triangle.
Manica Diamonds will face Yadah at Vengere Stadium on Sunday.
That Nhumwa began the season with sterling results and almost made everyone believe that they are gunning for the coveted Premiership title, helped fuel the dissatisfaction within the Manica Diamonds camp in recent months when Nhumwa and his men started donating points like confetti at a wedding.
But the inarticulate coach thinks the great expectations of a league title are unnecessarily placing too much pressure on his boys.
Nhumwa thinks that the Gem Boys camp must be patient with the team given that even the known league giants spent a long time without or before winning the championship.
"How many years did FC Platinum take before they started winning the league title? When was the last time that CAPS United win the title? When was the last time that Dynamos win the league championship? How many years have gone by since Highlanders lifted the league title?
"Why are we being hard on Manica Diamonds? The team is only two-years-old in the top-flight league and everyone around wants it to lift the league title. Such expectations are unfair and only help to put unnecessary pressure on the coaches and players.
"How can you bear a child today and expect the baby to be in Grade Seven the next year. It has to be gradual. We will get there and we only need to be united," said the former Masvingo United coach.
Perhaps, Nhumwa has a point!
For champions, FC Platinum, it has not been an easy ride for the high flying platinum miners who since their promotion had a huge turnover of coaches including the late Bhekimpilo Moyo, Rahman Gumbo, Tendai Chikuni, Zambian import, Tenant Chilumba and Lloyd Mutasa.
But the envisaged championship remained stubbornly elusive.
In 2011, Gumbo who was coach had his dream of winning the title again wrecked by Dynamos who beat them on goal difference after finishing tied on 58 points.
Mutasa also came close in 2013, but finished four points behind eventual champions, Dynamos, Highlanders and Harare City who ended tied on 54 points.
When Norman Mapeza took over from Mutasa in 2014 he has also fell agonisingly close, finishing fourth that year and third in 2015.
It was only on a relatively chilly Saturday afternoon of November 2017 that FC Platinum finally made history by lifting their maiden Premier Soccer League title when they broke a half a century record of no club outside of Harare and Bulawayo winning the league title.
Be that as it may, Nhumwa believes that the race for the title is still far from over.
Nhumwa maintained that the recent bad performance by his team in a rough patch which is normal in football.
"We have not given up on that (title race). We are still in it. In fact, it is too early to talk about the championship because there are still a number of matches to be played.
"It is still any man's game. Bad spells in football like the one we have been going through are normal. This is where we badly need our supporters to stick with us and cheer us until we get back on rhythm," he said.