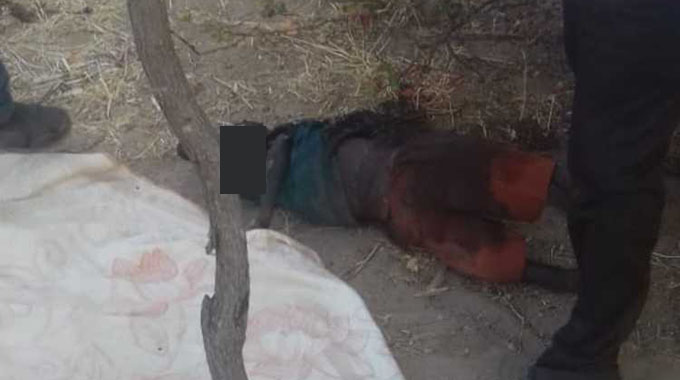 The ManicaPost
Liberty Dube Weekender Correspondent
A TWO-YEAR-OLD baby was last week found dead at St Noah Shrine in Mafararikwa, Marange 11 days after he mysteriously went missing in a suspected case of ritual killing.
Detectives discovered the body, which was in an advanced state of decomposition in the shrine.
The spine-chilling incident sent tongues wagging in Marange Village with social media platforms, particularly WhatsApp, awash with the occurrence and punctuated by allegations that the baby was killed for ritual purposes by a Marange-based businessman (name withheld). Noah disappeared at a church gathering at the church shrine on October 20 before he was found dead in the shrine on October 31. Police are still investigating the matter. "Noah's mother Patience Fenyere (28) left him sleeping in a tent at the shrine at around 3pm on October 20. She later returned to discover that he had disappeared. Incessant efforts to locate him proved fruitless. They then alerted police.
''One Arnold Mabiya (44) who works at the shrine stumbled on the body on October 31, which was in an advanced state of decomposition before detectives attended the scene," said Manicaland provincial police spokesperson Inspector Tavhiringwa Kakohwa.
He neither denied nor confirmed if the deceased had missing body parts.
The mysterious death circulated on WhatsApp and the originator alleged that a Marange businessman (name withheld) who has retail shops at Marange Business Centre had a hand in it amid allegations that he attempted to bribe Chief Marange with $10 000 to put the murder case under wraps.
Chief Marange, however, denied the allegations in an interview with the Weekender at his homestead on Monday morning. Villagers interviewed expressed mixed views on the issue with many accusing the businessman of having a hand. Chief Marange confirmed that he last week had to call police after some rouge villagers stormed his homestead demanding to know the truth.
"I heard about the unfortunate death of the baby. The matter was brought before me. Some villagers stormed my homestead accusing me of sheltering the late Noah's aunt whom they accused of conniving with the businessman to kill the baby for ritual purposes. ''I heard that there is a WhatsApp message in circulation accusing me of conniving with him but that is not true. I never received anything from him. Villagers have been forcing me to summon the businessman but I can't because there is no proof.
''I will only intervene as a traditional leader if police confirm that it was murder and if the perpetrator is identified and there is need for some compensation," said Chief Marange.
Noah's aunt, Mary Marange who was at the shrine when Noah disappeared said: "We went to a church gathering on the fateful day he was left asleep in the tent. We later came back and realised that he had gone missing. It was sad. Days later I was shocked to hear some of my relatives and villagers accusing me of knowing the person who killed the baby.
''We really don't know what happened and I am completely clean on this issue," said Mary who was struggling to compose herself during the interview.  Said one villager: "We heard the story. And we are deeply shocked. The fact that the baby went missing in a shrine for 10 days, only to be found in the same shrine dead with the body in a state of advanced decomposition leaves a lot to be desired.
We are hearing that this businessman is behind it and everyone is now afraid even to buy anything from his shop."