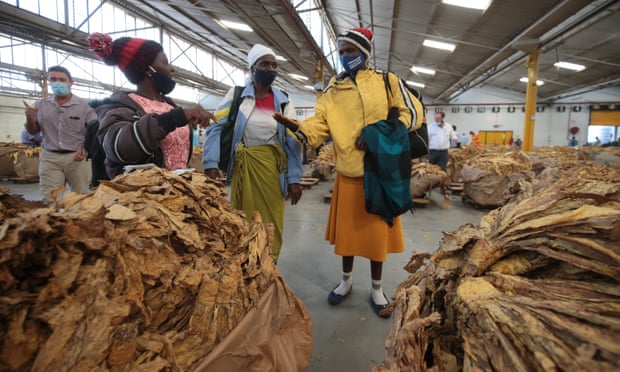 The ManicaPost
Samuel Kadungure
Senior Reporter
Since the beginning of the tobacco marketing season, the golden leaf has so far injected US$500 million into the economy in a positive development that has significantly contributed towards improving foreign exchange earnings and farmers' livelihoods.
The growth of small-holder tobacco production has been one of the biggest success stories of Zimbabwe's and reform exercise, with the industry morphing into an important contributor to national revenue, rural livelihoods and employment creation.
Statistics released by the Tobacco Industry and Marketing Board (TIMB) indicate that the highest price offered this season is US$6,70 per kg (contract), up from US$4 last year.
According to estimates, at least 200 million kgs of tobacco will be sold this season, compared to 180 million kgs, valued at US$452m, which were sold last year.
Crop hectarage went up by 6.84 percent from 117 000 hectares during the 2019/20 season to 125 000 hectares of better quality crop this year.
At Day 60, at least 190 million kgs valued at US$500m had been sold at an average price of US$2,75, up from US$2,44 last year.
About 151 million kilogrammes, valued at US$360m, were sold during the same period last year.
The rich pickings realised this season have seen small-holder farmers investing in scotch-carts, household property, motorbikes, livestock, irrigation equipment, production inputs for next season and their children's education, among others.
Mr Rodgers Muchemwa of Nyazura said those with a quality leaf are getting good prices. "The good quality leaf is fetching good prices and vice-versa.
"The prices are fair, especially at the contract floors. This season has taught us that it pays to produce a good leaf. I am looking forward to improving the quality of my next crop because the better the quality, the higher the price," he said.
Mr Shupikai Mvurumuiya of Chikundu Village in Odzi said he purchased a brand new motorbike for US$2000 after selling his crop and servicing his debts.
"This season has been better as the prices were firm, depending on the quality of the leaf.
"Unlike during past seasons, I have something to show for my sweat. I have invested part of the earnings in livestock and a motorbike to enhance my mobility. I have also my children's school fees in advance," said Mr Mvurumutiya.
But Mr Victor Mariranyika of Nyabadza in Rusape called for better prices.
"We hope the average price will improve to match the production costs of a consumable kg, which is currently pegged at around US$3.33. We should avoid a situation where tobacco is bought at prices below production costs," said Mr Mariranyika.
A2 farmer, Dr James Chipunza of Mubvakacha Farm in Headlands also said the average price, currently pegged at US$2.75, is below the costs of production.
"The average price is slightly higher than that of last year but it is still below the cost of producing a kilogramme of tobacco. We need an average price that enables the farmer to go back to the field and expand on his or her operations.
"This year was characterised by very high rainfall that resulted in a lot of leaching, and therefore the leaf was kind of diseased, resulting in a loss of weight," said Dr Chipunza.
Government has put in place measures to safeguard the interests of farmers and will soon amend them to define the role of tobacco contractors.
There will also be a standard cost of what a contracted farmer should pay per given area to avoid discrepancies on what they are obliged to pay to contractors.
TIMB has set the minimum support package that every contractor should provide to a farmer at US$1 000 per hectare for small-holder farmers and US$4 000 per hectare for commercial farmers.