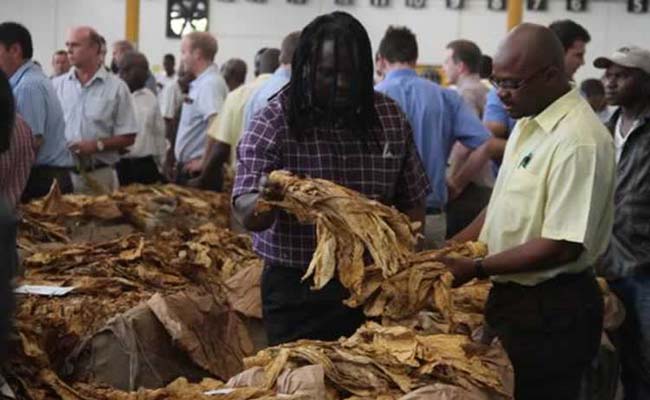 The ManicaPost
Samuel Kadungure Senior Reporter
BOOKINGS of tobacco bales at auction floors in readiness for the 2017 tobacco selling season which opens next Wednesday have started with Tobacco Industry and Marketing Board unveiling an e-marketing system that allows growers to "deliver the crop and go" instead of spending days and nights at the floors.
TIMB spokesperson, Mr Isheunesu Moyo, told The Manica Post on Wednesday that the organisation had intensified tobacco mock sales to train merchants, auctioneers and farmers' representatives on how the new e-marketing system would be used starting on March 15, 2017.
The e-marketing system will replace the conventional system which had a multiplicity of loopholes.
Mr Moyo said TIMB was working hard to ensure a smooth e-marketing powered season – amid optimism that the new system, which has been successfully implemented in India, will ensure transparency by eradicating corruption on the pricing matrix as highest bidders among merchants will get the best quality.
TIMB has licenced three auction floors – Boka Tobacco Floors, Tobacco Sales Floor and Premier Tobacco Floors; 15 contracting companies to pre-finance tobacco production and about 22 Class A buyers.
"We have been conducting mock sales everyday where our technical teams were training buyers to fine-tune the new system in readiness for the official opening next Wednesday.
We have also been involving farmers' representatives from across provinces to appreciate how the new system works. We will have our last visit to the auction floors on Friday (today)," said Mr Moyo.
A recent crop assessment revealed that 80 745 tobacco growers were registered, a sharp increase from the 70 161 registered during the same period last season.
"Bookings have already started and the good thing about the new system is that it allows farmers to deliver their crop and go back to their homes to continue with other chores.
We do not expect them to spend days and nights holed at the auction floors as has been the tradition because this new system eliminates interaction between farmers and buyers or merchants," said Mr Moyo.
In addition to implementing the new system, TIMB is also working on a raft of measures to eliminate tobacco side marketing.
TIMB has shunned Class B buyers after registering 22 Class A buyers for the season.
Class B buyers have been accused of ripping off farmers by playing middlemen for growers whose tobacco would have been rejected at the auction floors.
Some farmers still complain of corruption at the auction floors which has seen some growers bribing officials to influence prices.
The electronic auctioning of tobacco will also reduce the processing time for grower payments and eliminates illicit floor activities, such as ticket tampering.
Another benefit to be derived from the e-marketing system is that tobacco buyers will receive real-time data as the auction process happens and will therefore be able to tally bales when they reach the dispatch section of the sales floor.
The TIMB, whose mandate of to promote orderly marketing of tobacco, will also be able to monitor the sale process and this on its own will make the whole process more transparent.
Stakeholders believe the automation of tobacco auctioning was long overdue and its introduction will minimise buyer collusion, reduce marketing costs and result in better returns for farmers.
About 18 percent of tobacco is sold through the auction system and this year, output is projected at around 205 million kg.
Zimbabwe Tobacco Association chief executive, Mr Rodney Ambrose, said the development was expected to increase efficiencies in the marketing system right from when the farmer delivers his bales to payment.
Mr Ambrose said with e-marketing there would be no direct communication between buyers and farmers when purchasing, thus minimising cases of buyer collusion and share outs.
"We must give the system time to achieve the desired results, at least two seasons of live trials," said Mr Ambrose.
Economic analyst, Mr Nhamo Muchapondwa, encouraged industry stakeholders to support the deployment of the new system.
"Stakeholders are encouraged to embrace the new technology platform which brings much needed transparency and ethical conduct in tobacco marketing for the ultimate benefit of all stakeholders.
"As with all innovations, issues of political economy will create challenges in the initial implementation and it is imperative that farmers and buyers are educated on the benefits of the system in order to ensure smooth adoption. The system will bring substantial benefits to the industry as a whole," he said.
In 2016 TIMB postponed the implementation of the system to this season in order to avoid introduction of many changes to farmers at the same time.
Last year, TIMB together with Reserve Bank of Zimbabwe focused on the introduction of financial inclusion of tobacco growers by compelling all growers to have bank accounts to make transacting easier.