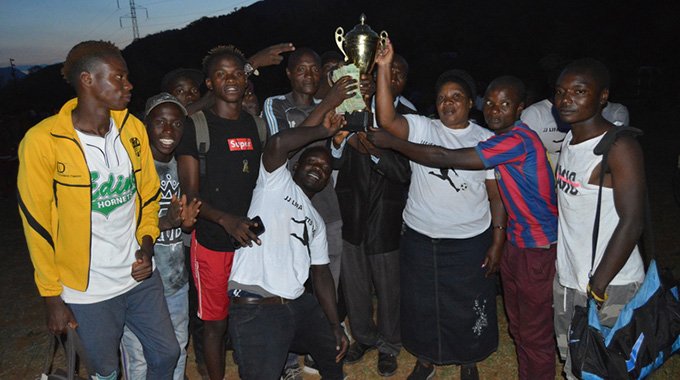 The ManicaPost
Ray Bande, Senior Reporter
A CARNIVAL atmosphere engulfed Rowa Secondary School sports grounds near Mutare where more than 20 football and netball teams converged for the third edition of the JJ Lifa Sports Gala held on New Years' Day.
The annual sports festival is named after businessman John and wife Josephine Lifa, who bankroll the annual fete.
Apart from netball and women football teams that competed on the day, 10 men's football teams that partook in the tournament included Harare-based S.R. Villa, Rowa, Lifa Select, Gandayi, Zimunya Gunners from 22 miles and Mafuke among others.
Spokesperson of the organisers Armstrong Mabumbo commended attendees of this year's edition of the function for making the event a resounding success.
"We are really happy to have managed to host the third edition of the JJ Lifa Sports Gala. It was a resounding success and that could not have been achieved if we did not have the support of all those who attended the event.
"We are looking forward to carry on with the initiative next year and many more years to come.
Our hope is that we will play our small part in the sports development of the area as well as the country at large through scouts that might take advantage of the gala to come and identify talent for prospective engagement," he said.
In the men's soccer competition, Lifa Select emerged winners with SR Villa being the runners-up while Takudzwa Kadzutu, who banged in four goals, walked away with the Golden Boot award.
In the final encounter, Obert Mpomba was named Man of the Match.
In women's football, Yadah Queens were crowned champions with Skyline coming second.
Primela Muzuru of Skyline and Zivi Mafuta of Yadah were joint top goalscorers.
Player of the Tournament award went to Zivi Mafuta. Zimunya Stars were the netball champions while Lifa Queens were the runners-up.
Top shooter was Marjory Sachinda of Zimunya with 43 goals while the Player of the Tournament award went to Maria Lifa of Lifa Queens.