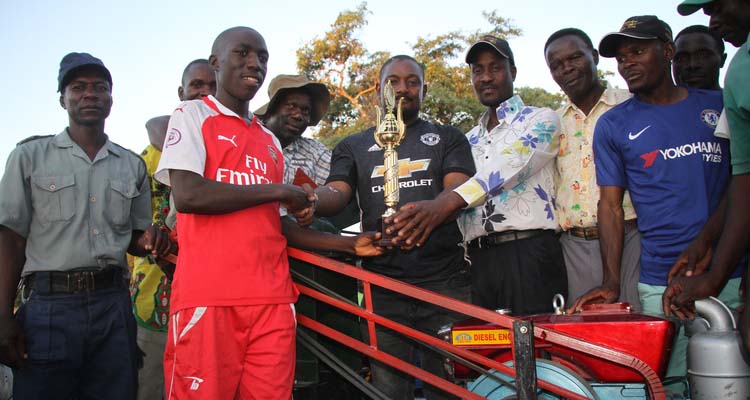 The ManicaPost
Ray Bande Senior Sports Reporter
A CARNIVAL atmosphere engulfed Zvevanhu Secondary grounds in Odzi, Mutare North constituency where more than 5 000 people from different walks of life thronged the venue for the 8th constituency sports gala on Saturday. Seven similar festivals have been held so far in different districts.
The sports festival, where local district teams competed in netball and football, is similar to those which are being held every weekend in different districts within the constituency as part of the Mutare North Member of the House of Assembly Batsirai Pemhenayi's efforts to spearhead development in the area through sport and income generating projects, dovetailing them into the President Mnangagwa's 100 day plan.
The ninth Mutare North gala will be held at Good Hope Community Centre in Border Gezi district, tomorrow (Saturday). Last weekend's festival, which saw Zvevhanhu Secondary turning into a hive of activity, saw Eastern Eagles being crowned champions in football when they outplaying Boarder Stars 4-3 in the penalty shoot-out after both teams remained deadlocked at nil all in regulation time.
For their sterling efforts in winning the football competition, Eastern Eagles walked away with a grinding mill while first runners up Boarder Stars received freezit and peanut butter making machines. Chinota Queens won the netball competition when they dismissed Japi Queens 7-3. Both teams received freezit as well as peanut butter making machines and 100 chicks for a poultry income generating project.
A total 16 teams in the district took part in the football competition while four teams participated in netball.  In his prize presentation speech, Member of the House of Assembly for Mutare North Batsirayi Pemhenayi who bankrolled the competitions from his personal resources said his aim is to achieve tangible developmental results within the President Mnangagwa's 100 day plan.
"This is part of our efforts as a constituency to contribute to President Mnangagwa's 100 day plan. Gone are the days when we had to wait and let Central Government go it alone. Gone are the days when we do nothing but criticise those in office. We have to play our part as citizens and leaders.
"Therefore, as Mutare North we will continue to hold these sports festivals as a way to foster development through sport and create opportunities while empowering people through self help projects like poultry," said Pemhenayi.
Mutare District Sport Promotion and Development Officer Prince Mutsvunguma, who represented his Ministry during the festival, hailed the initiative by Mutare North Constituency Member of the House of Assembly.
"As a ministry we are overwhelmed since the product is empowering youths through sport. It is also creating an opportunity for athletes and the community members to participate in various sport codes and spectator growth, identification and nurturing of athletes for podium performance programs. It also helps the Ministry in community club formation," said Mutsvunguma.