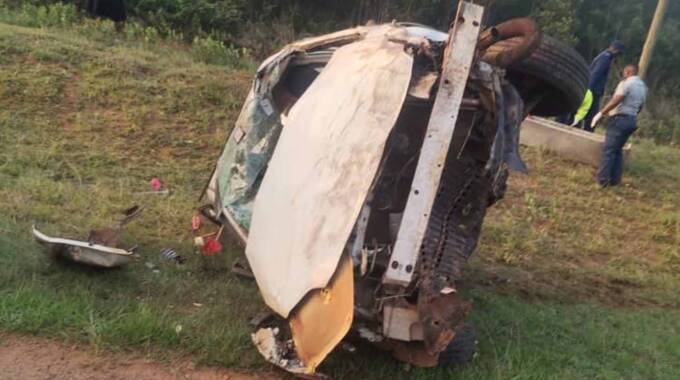 The ManicaPost
Luthando Mapepa
Chipinge Correspondent
AN unauthorised joyride claimed three young lives in Chipinge on Monday after the driver who was allegedly speeding lost control of the vehicle, resulting in it rolling several times.
A solemn atmosphere engulfed the farming town of Chipinge as residents failed to come to terms with the tragic loss of Troy Nyangombe (20) and Rutendo Chikwanda of Gaza suburb, as well as Joyline Parrafin (18) of Medium Density.
The trio perished in the accident that happened at the 7km peg along the Chipinge-Southdown Road, also known as Eastern Border Road.
The driver of the Toyota Corolla Axio vehicle, Nyasha Brandon Jani and another passenger, Nothando Beto, are battling for their lives at Victoria Chitepo Provincial Hospital after being transferred from Chipinge District Hospital due to the nature of their injuries.
The other occupant, Joseph Mulambo, is admitted at Chipinge District Hospital.
National police spokesperson, Assistant Commissioner Paul Nyathi confirmed the tragedy.
Eye witnesses attributed the accident to speeding.
Jani of Chipinge was allegedly trying to beat time in order to park his mother's vehicle which he had allegedly taken without her permission.
It is alleged that Jani took the vehicle on the pretext of going to a nearby carwash, but changed the route and took his friends on a joyride along the Chipinge-Southdown Road.
The friends reportedly went to waterfalls near Clearwater Estates around 2pm and met their fate on their way back.
Tragedy struck as they approached Mashiri Turn-Off when Jani failed to control the vehicle.
"On Monday, Nyasha Brendon Jani was driving a Toyota Corolla Axio vehicle, owned by his mother, Pauline Jani of Chipinge Town.
"Upon approaching the 7km peg along the Chipinge-Southdown Road or Eastern Border Road, Nyasha lost control of the vehicle, swerved to the left and drove for about 54 metres with the left side wheels off the road.
"Nyasha tried to drive back into the road, but swerved off again to the right side before the car rolled several times. It landed on its right side.
"Troy, Joyline and Rutendo were thrown out of the vehicle. Troy sustained severe head injuries, a broken left leg and arm. Rutendo had a deep cut on the forehead and they died on the spot," said Assistant Commissioner Nyathi.
The late Troy's parent, Jonah Nyangombe, dismissed claims that the six friends were on a beer binge drive when the accident happened.
He described his son's death as a big loss to the family.
"There are theories being thrown around by residents concerning the death of my son and the two ladies who were in the vehicle. Some are saying they were drunk, but on that fateful day, noone had money among the friends.
"The car was involved in an accident due to speeding. My friend's son, Brandon, took the car without his parents' permission, so I believe he was speeding to arrive home early," he said.
Nyangombe added: "It is a great loss to the family as Troy was going for his final year at university. We were supposed to bury him in Marondera, however, are now burying him here in Chipinge on Thursday (yesterday) as we are now residents of this town."
Troy was a student at Midlands State University and had recently completed his work-related learning at Chipinge Government Complex, while Joyline was sitting for her Form six final examinations at Gaza High School.
Troy was attached at the Youth, Sport, Arts and Recreation Ministry and his supervisor who declined to be named, said they were robbed of a hard-working young man with a promising future.
"He was attached to our department for the past 12 months and we worked together very well. His lecturers from MSU supervised him last week and he was supposed to return to the university for Part Four next year. We were all shocked by this tragic accident," he said.
The late Rutendo's guardian, Fungai Chikwanda, said it is very sad to lose such a young soul in a road traffic accident.
"It is painful that we lost Rutendo through this accident. However, God has other plans for her. She spent the whole day at my workplace, and the next thing I received the sad news of her death.
"I visited the mortuary to view her body, and she had serious injuries, a sign that the car was speeding. I dismiss reports that she was drunk as we had been together prior the accident," said Chikwanda.
The late Joyline's friend, Princess Sithole, said it is hard to believe that her friend is no more.
"Up to now I cannot believe that my friend is gone. She visited our house hours before the accident and told me about the trip with her other friends.
"I was shocked to receive a phone call from our other friends, telling me that Joyline had died. We were supposed to sit for our last Sociology Paper Two examination on Friday (today).
"We were doing the same combination of Sociology, Family and Religious Studies and English Literature and this tragedy will haunt me in the next examination and future," she said.