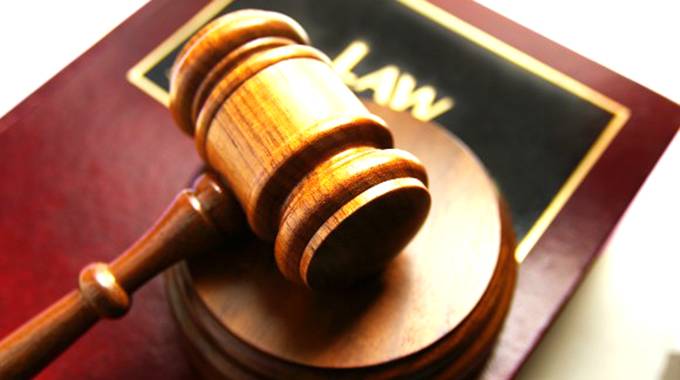 The ManicaPost
Tendai Gukutikwa Post Correspondent
A 70-YEAR-OLD Buhera farmer who went berserk and shot dead his employee's wife and two daughters over alleged theft will spend the rest of his life in prison after he was sentenced to three life imprisonment terms.
Takadu Oxford Mangwiro will also serve an additional 10 years in prison for attempting to murder his domestic worker, 35-year-old Farai Mandigo. Mandigo escaped death by a whisker when Mangwiro's 303 BSA rifle missed target on two occasions, before the infuriated farmer then turned the barrel on to the man's family – Portia Mudhara (32), Sharon Mandigo (8) and Lisa Mandigo (1). Mangwiro of Marindire Village under Chief Makumbe was convicted on three counts of murder and one count of attempted murder.
Mutare High Court judge, Justice Hlekani Mwayera presided over the matter, while Mr Jonathan Chingwinyiso represented the State.
It was the State's case that Mandigo was employed as a domestic worker by Mangwiro at his Marindire homestead.
On September 18, 2018, the two had a fall out over alleged theft of property. Mandigo was accused of stealing half a tonne of maize, a quarter tonne of groundnuts, rapoko, some eggs and chicken.
He, however, denied the allegations.
Infuriated, Mangwiro terminated Mandigo's employment contract and ordered him to immediately vacate his premises.
However, Mandigo said he had no funds to ferry his family and property to his homestead in Marange. He therefore spent the night at Mangwiro's homestead.
The following day when the two men bumped into each other, Mangwiro was armed with a rifle.
Instead of responding to Mandigo's greetings, Mangwiro corked his gun and aimed it at the former. Mangwiro fired a shot from a distance of about eight metres and missed his target.
A terrified Mandigo fell on his knees as another shot was fired. This second shot also missed him.
Finally regaining his strength and courage, Mandigo ran for dear life and rushed to make a police report.
As all this was happening, Mandigo's wife and youngest daughter Lisa had tried to seek refuge in their bedroom.
On the other hand Sharon was watching helplessly as shot after shot was being fired at her father. Mangwiro then turned the barrel on her and shot her on the chest.
The eight-year-old died on the spot.
Mangwiro then followed Mudhara and her young daughter in their bedroom and shot them. They also died on the spot.
Mangwiro dragged all the three bodies and dumped them in a rubbish pit 18 metres from the crime scene, before leaving the homestead.
As he was fleeing in his son Tamburayi Mangwiro's vehicle, the vehicle was intercepted by the police. The duo was taken to Murambinda Police Station, where Mangwiro was arrested.
Two rifles – a 303 and 308 – were recovered from Tamburayi's car trunk.
In his defence, Mangwiro argued that he did not intentionally kill the three. He also denied attempting to kill Mandigo.
While admitting that he fired shots at the four, he claimed that at the time, he had temporarily suffered a psychological breakdown.
"I suffered from a disease of the mind. I did not realise that there was a real risk or possibility that my conduct may cause death. They had refused to vacate my homestead, notwithstanding having been ordered to. The emotional and mental strain that preceded the commission of the offence placed a strain on me to an extent that it triggered a moment of insanity," he argued.
However, evidence brought before the court, in the form of medical examinations, concluded that Mangwiro is a mentally stable person.
ENDS