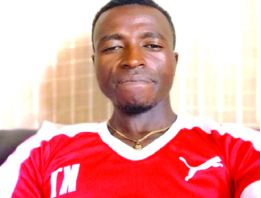 The ManicaPost
Shelton Mwanyisa
Emerging Issues in Education
The story of Ruramai Reginald Tinavapi, the finance and administration officer of Chenhaka Arts Group based in Mutare, prompted me to write this article to educate parents on the importance of arts and sport.
Quite often, parents deny their children involvement in arts and sport while emphasising on academic work only.
However, schools lay the foundation for most arts and sport personalities.
I found it worthwhile to celebrate the success of our arts and sport school curriculum as the school term is now in full throttle.
After going through a series of discussions with various arts and sport personalities, I am compelled to ask parents to give it a second thought when it comes to dictating what their children should do at school.
Career opportunities
Ruramai Reginald Tinavapi says he was chased away from home for six years by his biological parents just because he had made a decision to join the arts sector.
He was taken care of by Mhembero Arts group that continued to nurture his talent in dance and theatre.
He did not give up and today he is proud to be professional artiste administering the finances of Chenhaka Arts Group.
I also had a chat with a cricket star, Pellargia Mujaji.
Mujaji plays in the Zimbabwe Women's Cricket National team.
After exchanging greetings with her brother and father, I was given the permission to talk to the cricket star.
In 2002 whilst in Grade 6, Pellargia Mujaji made a decision to play cricket but there was no female cricket team at Chirowakamwe Primary School.
She joined the boys' team and four years later it came as no surprise when she joined Mountanias cricket team.
In 2006 she had made it into the national team.
When I asked her what her parents' reaction was at her decision to play cricket in the boys' team, she laughed and said, her parents were surprised but gave her the nod.
"Sport can take you places no matter who you are and where you come from", she said as we concluded our talk.
Another star, Claris Kwaramba, fell in love with netball whilst at Penhalonga Primary School.
Kwaramba is one of the senior players that played in the Vitality Netball World Cup in England representing Zimbabwe.
She currently is attached to Zvishavane's Platinum Stars.
It must be pointed out that it is a myth to regard sport as contributing to poor academic performance.
Research shows that sport increase intellectual functioning and metabolism.
Kwaramba excelled in her educational studies and attained 20 points at A Level.
Chipinge born Luke Musikiri also had an opportunity to join one of the country's biggest clubs, Dynamos, at the age of 17.
He was born in Checheche where he did his primary school.
His was scouted during the National Association of Primary Heads (NAPH) tournament at Sakubva Stadium in 2017.
Positive relations
The Zimbabwe senior national netball team players celebrating their performance at the Vitality Netball World Cup.
Zimbabwe was one of the four African countries that qualified for the World Cup.
No doubt, sport promotes the development of positive social relations. Sport encourages playing as a team, unity and healthy social relations.
Arts and sport allow participants to gain prestige and status in the society
Responsibility
When it comes to giving back to the community, sports personalities seem to be more responsible than many other professionals.
The ubuntu philosophy summarises this principle by saying, I am because we are, and since we are, therefore I am.
Mutare Boys' High School old boy and former Sables and Cheetahs star-winger, Augustine Mberi donated rugby, soccer, volleyball and basketball kits to his former school.
Again it was at Mutare Boys High School where he made a decision to play basketball.
Willard Katsande also sponsored soccer tournaments.
Health and fitness
Elise Gledhill High School produced Kevin Vesta Tembani, whose is currently the fitness trainer at Baffaloes football club.
He was worried about the young generation being exposed to declining physical health and mental health due to drug abuse.
Vesta pointed out that drugs threaten the social stability of our society.
Sport, being one of the most important means of enhancing human health, also has a significant positive impact on attitude, moral principles and promoting harmonious development of personality.
Undoubtedly sport can be used to arrest the drug and alcohol issues that have of late increased.
Leadership
Experience clearly shows that sport is one of the most effective mean of re-education, providing opportunities for the physical abilities, for leadership and competition in a healthy manner.
From Sakubva High School, veteran former goalkeeper Ndega Matsika who was the women national soccer team goalkeepers' coach is currently the Black Rhinos goalkeepers' coach.
Such positions of authority make me subscribe to the view which says leaders are born and not made.
Modern sport is multi-faceted, differentiated, and it is able to satisfy the most diverse needs of individuals and society in the field of sports.
Parents, remember, children are not your second chance of being born again.
Give them the guidelines but above all the freedom to choose.