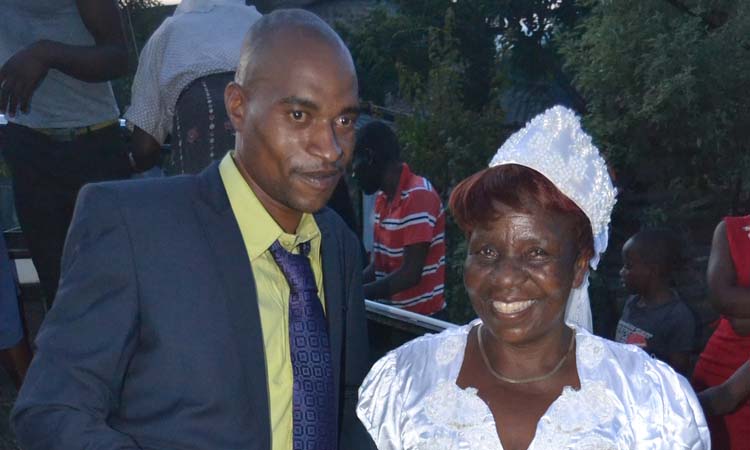 The ManicaPost
Liberty Dube Entertainment Correspondent
THE parents of Welling Mabhiza (29) who "wed" popular Sakubva socialite Mbuya Sauti (57) last week are not at all happy with the development. But Mabhiza has vowed to love and stay loyal to the "apple of the eye".
He also pledged to pay lobola for his granny babe when he settles down. The 29-year-old Mabhiza opened up to The Weekender on Monday, revealing that his parents were opposed to their controversial union, but was not troubled by the parents' thinking.
His parents stay in Nyika, Masvingo. Mabhiza pulled a shocker last weekend when he "wed" the popular granny, who also confessed that she has a mermaid spirit that attracts young men. The two lovebirds' "wedding" took place in Sakubva's Chineta location and drew people from different walks of life.
The event drew mixed reactions, especially on social media. Mabhiza who revealed that he also has a spirit of a mermaid, is a divorcee and is currently not employed.
"I don't regret what happened last weekend. I love Mbuya Sauti. I really love her. I know people might say a lot of things but I am proud of the decision that I made," he said.
Mabhiza said they were making arrangements to host a big party at Sakubva Stadium for those who missed the "wedding".
He added: "My parents were not happy with my decision to marry the love of my life, but they will get to like my woman. I also have a spirit of a mermaid and we got attracted to each other. We are yet to do other rituals that will allow us to be intimate."
Mabhiza was in the company of Mbuya Sauti during the interview. She would occasionally nod in agreement, and show a luminous smile. She would also chip in with some information which Mabhiza was uncomfortable to reveal.
"We cannot have sex for now but we sleep naked,'' she said with a little chuckle. We play around. He is so romantic. However, his parents are not happy with his drinking habits. I am going to buy him a car to use as a pirate taxi so that he can chip in with some money," said Mbuya Mabhiza.
She added: "But Wellington is so jealousy. He does not want to see me talking to other men. The spirit of the mermaid in him gets so angry.''