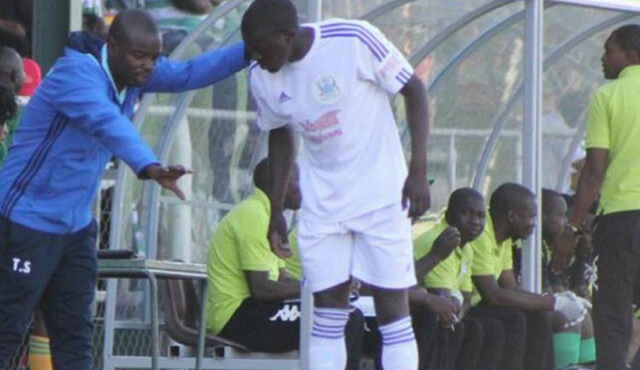 The ManicaPost
Ray Bande : Senior Sports Reporter
A ROWDY section of Mutare City Rovers fans are threatening to assault coach, Takudzwa Shariwa during and after every match at Sakubva Stadium in a familiar, yet crude attempt to impose certain players who were born and bred in Sakubva in his team.
The youthful gaffer has been forced to use unconventional entry points as well as employ hide-and-seek tactics whenever he makes his way into a match venue that he calls his home ground owing to a number of fans of violent disposition who are pressurising him to give game time to their preferred players from Sakubva.
Ironically, a fortnight ago, when Shariwa introduced the same band of players born and bred in Sakubva in the second half against Tsholotsho at Sakubva Stadium, the Mutare outfit surrendered their 3-0 nil lead, only to be saved by the referee's final whistle when the match appeared heading for a humiliating defeat for the home team.
In that match, when the team was leading 3-0 with only 15 minutes of play remaining, Shariwa must have been under pressure to use players raised in Mutare, hence the introduction of diminutive Sakubva-born Hibron Makukutu for Wonder Sithole in the 67th minute.
Exciting Kudakwashe Gurure made way for another Mutare player, Bonvolio Mukwena in the 80th minute, while predatory Agrippa Murimba, a former Harare City player, was substituted for another Mutare-born player Caleb Masocha in the 73rd minute.
The end result was a three-all stalemate as the preferred Sakubva players failed to at least maintain the tempo of an exciting brand of attacking football that had earned the club a comfortable lead.
Apparently, this is not the first time that a Mutare-based Premiership football club has been faced with such a predicament after the now defunct Eastern Lions went through a similar experience.
Brenna 'Baba WaGari' Msiska and his backroom staff had a torrid time to convince players from Sakubva to join the club as they argued that they would only do so if they got game time as a unit and not as individuals.
Highway FC, another Mutare-based Premiership outfit which also sunk into oblivion after a solitary season in the country's top-flight league, had a similar experience with players from the capital such as Tofireyi Sambo failing to get on and off the field of play with their Sakubva counterparts that included Makukutu and current national team captain, Willard Katsande.
In an interview, City Rovers spokesperson, Clayton "Baggio" Masekesa, called on a section of the supporters to stop putting unnecessary pressure on the team's technical department.
"The coaches are working very hard to survive relegation. This can only be achieved by all of us the executive and the supporters by working together positively. But, what we have been seeing of late during our home matches is a cause for concern," he said.
"We know that there is a section of supporters that is forcing and at
the same time putting pressure on the technical team to field certain
players which has been costly to the team.
"We know that supporters have players that they want to be in the
team, but, it is purely fair to leave the selection to the coaches. I
believe players should be in the team by merit. Let those that deserve be in the team. I don't see any reason why a coach can leave out a good player in the team considering that we are desperate for
survival," Masekesa said.
Interestingly, a vastly improved Mutare City Rovers, known to many of its fans as Gusha Bhora, has been collecting points away from home, while struggling at Manicaland's ceremonial home of football – Sakubva Stadium.
The team has won away on three matches. It has collected maximum
points against Border Strikers (1-0), Hwange (2-1) and Highlanders
(2-1).
It has only won twice against How Mine (1-0) and 2-1 against Hwange at Sakubva Stadium.
An impeccable source at the club told this newspaper that Shariwa was forced to make the changes in the match against Tsholotsho after he had earlier on received threats from supporters who claimed that he was not fielding some local players in the team.
After the Tsholotsho match, Shariwa had to escape through the back
door of the changing rooms after some fans were baying for his head, while after the match against Hwange last Saturday the same supporters hurled insults as they threatened Shariwa for not fielding the players.
Meanwhile, tomorrow (Saturday), the team travels to Harare for a potentially explosive encounter with Caps United at the National Sports Stadium.
The match kicks-off at 3pm and will be beamed live on pay per view channel, SuperSport9.
Friday:
Harare City FC v Bulawayo City FC (Rufaro Stadium 1500hrs SS):
Saturday:
Caps United FC v Mutare City Rovers FC (National Sports Stadium 1500hrs SS);
Chapungu FC v Border Strikers FC (Ascot Stadium); FC Platinum v Chicken Inn FC (Mandava Stadium); Tsholotsho FC v ZPC Kariba FC (Luveve Stadium):
Sunday:
Highlanders FC v How Mine FC (Barbourfields Stadium); Hwange FC v Triangle United FC (Colliery Stadium); Ngezi Platinum Stars FC v Dynamos FC (Baobab Stadium, 1500hrs SS).