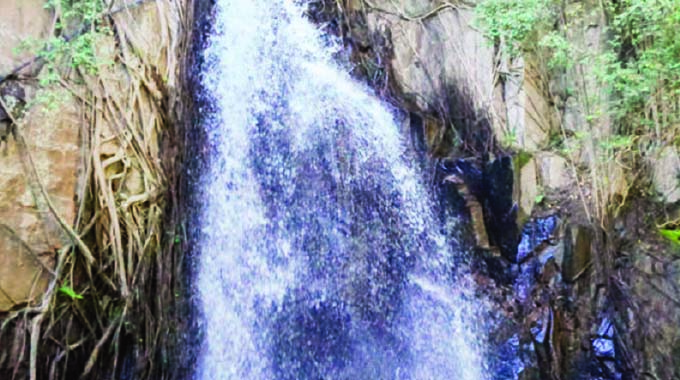 The ManicaPost
Liberty Dube Tourism Correspondent
SCENIC natural sites in Vumba are playing a critical role in keeping the area's tourism afloat. The majestic Nyachowa Falls, situated about 12km from Mutare along the Chigodora Road is one of the most frequented sites in Vumba. The falls are the second largest in Manicaland after Mtarazi Falls.
Just like other majestic sites such as Leopard Rock Game Park, Vumba Botanical Gardens, Hivu Scenic Drives, George's View Point, Prince of Wales View Point, Zonwe Mountain as well as Chinyakwaremba Mountain, Nyachowa Falls is changing the face of Vumba.
Eastern Highlands Experience chairman, Mr William Chatigu said, "This tourism feature should be guarded jealously, it should be valued as a treasure. It has played a critical role in attracting local and regional tourists. The site has managed to keep Vumba on the map."
The huge trees around the falls accommodates various bird and butterfly species. It also provides shade for picnic and nature enthusiasts.
"Some of the trees found at the falls include Waterberry, Albizia and Strangler Fig. The birds include the likes of the White browed robin chat, African Pied wagtail, Miombo Double collard sunbird, African yellow white eye, Jameson's fire finch, Yellow bellied waxbill, Streaky headed canary and many more," said a villager and bird expert, Mr Peter Magosvongwe.
Nyachowa project chairperson Mr Josphat Buwerimwe said if the project is well maintained, it will empower the area's young people.
"This is a commendable project. Tourists have been coming in their numbers and if this project is well nurtured, it will create employment for youths in the area as they will be employed as tour guides," he said. Some of the activities complementing the majestic Nyachowa Falls include horse riding at Hivu.
Tourists also visit the Zonwe Dam and Mountain for fishing and hiking respectively. Tourism players in Vumba have embarked on strategies to counter the sharp drop in tourist arrivals through exploring these and other natural sites.