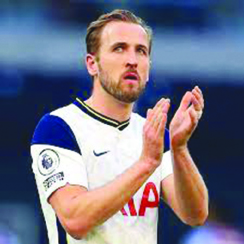 The ManicaPost
NOW widely regarded as one of the best strikers in the world and the finest English goalscorer of his generation, Kane has come a long way since his lower-league loan struggles and fight to earn a regular start at Tottenham.
BBC Sport spoke to coaches, team-mates, opponents and colleagues from every stage of Kane's career to chart not only his rise but how he has evolved as a player on the way.
The Loan Odyssey
The shortened pitch at Millwall's training ground meant the keeper could easily throw out to the young loanee striker lurking down the other end, but what Kane did next was anything but simple.
With his eyes fixed on the ball as it fell over his shoulder, taking him away from goal, Kane had already decided his next move: he was going to shoot. Holding off the marker to his left, he wrapped his right boot around the dropping ball, sending a booming volley across to the far post and into the corner of the net.
"It was a copycat of Marco van Basten's one at Euro '88," remembers veteran defender Alan Dunne. "It was probably the best goal I've seen in training in my time. If I'd scored a goal like that, I would have run off waving my shirt around my head, but it didn't faze him. It was like it was expected."
Kane was just 18 when he and midfielder Ryan Mason were shipped to the intimidating surrounds of The Den to aid the south-London side's Championship relegation battle in January 2012. He settled quickly and soon impressed with his focus, technical quality and thirst for improvement.
"He scored some of the best goals I've ever seen," says Australian centre-back Shane Lowry. "It was unbelievable – left foot, right foot, he was an absolute finisher; gets that one yard of space and bangs it.
"You see the goals he scores in the Premier League, where he just shifts and it's in the bottom corner before you even get a leg out. In that sense I could see the high quality he had. It was good for me just marking him in training. It was a learning curve."
An initial loan with third-tier Leyton Orient in 2010-11 had given Kane his first extended taste of first-team action, but it was while at Millwall that the future England captain began to show his potential as he found a degree of comfort in the men's game.
"I used to sit next to Harry in the changing room," says former defender Darren Ward. "After training every day, he used to sit on his spot and just stay there. You're thinking, 'What's he doing? What's he looking at?' He wouldn't move for a while.
"One day someone asked him, 'What are you doing Harry?' And he said: 'I'm just thinking about what I could improve on in training, how it went, what went right, what didn't'.
"Whenever I looked at him after training, he'd be sitting there, going over it in his head. That is a player who takes care of his football. He means business. And he was doing that at 18. That's incredible."
Kane's adjustment to competitive action in the Championship wasn't instantaneous however. He was on the scoresheet just once in his first 13 appearances for Millwall — an FA Cup brace against Dagenham & Redbridge.
But he grew into the campaign, building confidence as he began to exhibit the skills he had shown consistently in training. The high point was a stunning strike in a 3-0 win over Doncaster in March.
Deployed on the left flank by manager Kenny Jackett, Kane received the ball close to the touchline and cut inside before unleashing a swerving 30-yard effort into the bottom corner.
"It was one of those horrible Tuesday nights, freezing cold," Ward recalls.
"Harry was playing against quite a quick full-back and he wasn't getting any joy. Gradually he was getting deeper and deeper towards our goal. Then all of a sudden, he got the ball and cut inside. He shot from an angle and the swerve on the ball totally caught out the keeper.
"It took everyone by surprise. We were like, 'Wow, this guy really can hit a ball!' It was one of those moments where he wasn't doing anything in the game, and then, bang, he scores."
Kane finished the season in rich scoring form, with seven goals in his final 14 games. His performances helped Millwall avoid the drop and earned him the club's Young Player of the Year award.
By the time he departed The Den, his team-mates were certain a bright future awaited the young striker, even if they couldn't anticipate the heights he'd reach.
"To break into the Tottenham first team, yes, but to be one of the top three strikers in the world? I don't think anyone would have expected that," says Ward. "I don't think you would have said he'd be where he is now."
The Breakthrough
In July 2013, Swindon Town spent a week of their pre-season in Portugal's Algarve. There, the League One side enjoyed warm-weather training and played a couple of fixtures against a Tottenham XI made up mostly of young players.
Ward had just joined Swindon from Millwall, and in the tunnel before one of the friendlies spotted his former team-mate Kane.
An informal relationship with Spurs had seen a handful of young players arrive on loan, with Grant Hall, Mason and Alex Pritchard all set to spend 2013-14 at the Wiltshire club. Rumour had it Kane would follow.
"Wardy, they want me to go on loan again," Kane confided. "I want to stay here. I'm good enough to get in this first team."
For most of the 2013-14 season, though, Kane continued to struggle to make a meaningful first-team impact at Tottenham.
After leaving Millwall, he'd spent disappointing spells with Norwich and Leicester. Neither had provided much in the way of senior match experience or confidence-boosting goals.
Kane had been sent to East Anglia at the start of the 2012-13 campaign with a view to building the youngster's exposure to Premier League football after a top-flight debut as an 85th-minute substitute in Tottenham's season-opening 2-1 defeat by Newcastle United.
He played the last 18 minutes of a 0-0 draw against West Ham in his Norwich debut, but a broken metatarsal saw him return to Spurs to recover before heading back to Carrow Road in late December.
By February, he had made just two more Premier League appearances for the Canaries and Tottenham decided to cut his loan short.
He spent the remainder of that season at the King Power Stadium, but struggled to break into a team pushing for promotion from the Championship.
There is a well-circulated picture of Kane sat alongside Jamie Vardy on the Leicester bench at Vicarage Road as Nigel Pearson's side lost 3-1 to Watford in the second leg of their play-off semi-final. The England captain has since reflected on his loan in the East Midlands as the most difficult period of his career.
By the time he returned to Tottenham for the 2013-14 season, there was little clamour to see the young striker given a sustained chance in the senior side. He had to content himself with sporadic Europa League and League Cup appearances.
Still, there were those within the club who maintained great belief in Kane, and they would soon be in a position to act on that faith.
"It was all part of his development," says Chris Ramsey, the Queens Park Rangers technical director who was Tottenham's head of player development at the time.
"Not every loan you go on works out. But it helped him be more resilient and work out what he needed to do when he played. We never really looked at those loans as failures, more as a learning curve.
"His mentality was one of the prominent things in his career early doors. When he started off, he wasn't very quick, but he always had a good mentality towards training and excelling and becoming the best he could be."
In December 2013, Andre Villas-Boas was sacked as Spurs manager. Tim Sherwood was promoted from his role leading the club's under-23s — where he'd worked with Kane — to act as caretaker boss, bringing Les Ferdinand and Ramsey into his first-team coaching staff. — BBCsport.