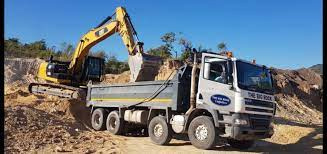 The ManicaPost
Ray Bande
Senior Reporter
THE Big Rock Logistics — specialists in earth moving and equipment hire, construction and civil works, supply and delivery of aggregates — are spreading their tentacles in the industry with each passing year, thanks to a client-oriented approach and a vibrant community social responsibility stance.
As ample evidence of their growing clout on the market, the Blessing Mangwiro-owned company has covered a number of developmental projects that include the Chimanimani Cyclone Idai Recovery Project where they worked at Runyararo Relocation Site, Dangamvura Water Pipeline Project, Wattle Company roads rehabilitation (Nyanga and Bvumba — Map off), Matanuska Distribution (Burma Valley irrigation, Comhold services and Musikavanhu irrigation (Chibuwe), Penhalonga low density road grading and gravelling, Tsambe Causeway Road (widening and storm water drain construction), Fairview Road (grading and gravelling), Gemmology Centre (construction of access road), Holy Cross Mission and Rutenga (construction of road).
The Big Rock Logistics company was incorporated in 2018.
Ms Praymore Mugebe, The Big Rock Logistics spokesperson spelt out some of the services that the company provides.
"We provide a superior service in civil and construction works, bulk extraction of pit sand, river sand, gravel, with specialised equipment and transportation. We also offer transport services for mineral ore, waste material, rubbles, aggregates, industrial raw materials, nationally and internationally. We operate tipper trucks, lowbed services. We also offer grader, dozer, pneumatic roller, vibro roller and water bowser services," said Ms Mugebe.
She underlined his company's determination to achieve total customer satisfaction.
"We are founded on the ethics and values that customer satisfaction is key to the lifeline of the organisation. We are committed to ensure customer satisfaction in all our services.
As the country looks ahead to an upper middle class income economy, The Big Rock Logistics has placed itself in a strategic position where it will play a crucial role in infrastructure development.
"The Big Rock Logistics (Pvt) Ltd also strives to give the travelling public the safest highways by constructing quality roads and pavements. Our services include all aspects of road construction and maintenance as well as construction of both complex and non-complex structures such as multi-storey buildings, tunnels, bridges, etcetera.
"Our company has qualified and experienced engineers, builders, electricians, plumbers and carpenters," she said.
"We also offer special transport services for moving heavy machinery and equipment, both local and also beyond the borders. Our lowbed trucks are also ideal for recoveries," she said.
Part of their corporate social responsibility — which has endeared themselves with other corporates in Manicaland and beyond — include, but are not limited to its recent partnership with The Manica Post on the Ladies Summer School as well as its numerous donations to football institutions such as Tenax C.S Football Club as well as the ZIFA Eastern Region.
The company has also given a helping hand in earthmoving works on Zimunya road grading, at the Manicaland Provincial Heroes' Acre, as well as on Cyclone Idai response road work.