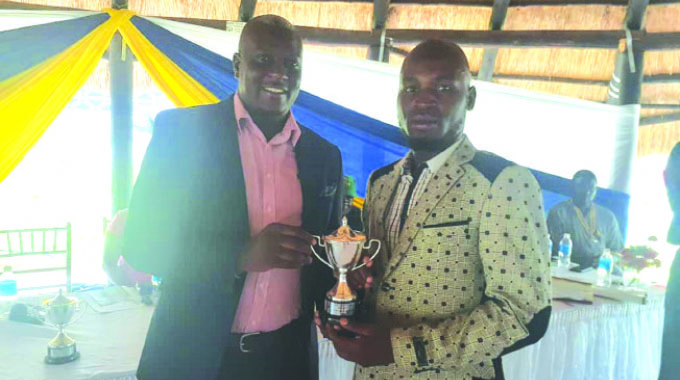 The ManicaPost
Ray Bande
Senior Reporter
Zifa Eastern Region top goal scorer and soccer star of the year for the 2019 season, Farai Mugumwa, who was a vital cog in Tenax FC's Premiership promotion campaign last season, says he can't wait for his return to top-flight football action after a short spell in the same league back in 2015.
An exceptionally talented top man, gifted with pace and precision in front of goal, Mugumwa's talents on the field of play are yet to be fully appreciated by all and sundry after his previous stint at Flame Lilly in the Premiership in 2015 did not give him the attention and recognition he deserves.
He left the club mid-season and returned to play Eastern Region Division One football at Tenax FC. "I can't wait for the 2020 season. Just like everyone else at Tenax FC, I also want to play my part in proving a point to those who think we are not equal to the task.
"We cannot really talk too much before we kick the ball. We will let football do the talking," he said. Mugumwa was impressed by the teamwork at Tenax FC last season and his contribution to the results they achieved as a club.
"Last season was really great. It was good for me after captaining the team. We got promoted after 10 years of trying hard and failing at the last hurdle.
"I played 29 matches out of 30. Of which we won 20 games, drawing eight times and losing one only. I am happy that at the end of the season I was the top goal scorer with 15 goals. That really assisted my club in getting promoted at the end of the season," he said.
Mugumwa is no stranger to accolades in the Zifa Eastern Region.
In 2015, he was the Zifa Eastern Region soccer star first runner-up after only playing in the second half of the season and scoring 15 goals, only one behind the top goal scorer
This was after his mid-season return from Flame Lilly. He bagged the same accolade in 2017. The soft spoken striker, who did his primary education at Dombotombo Primary in Marondera and Mutanda Primary in Mutare, before proceeding to Sakubva High 1 for his secondary education, said the 2020 season is a chance for him to make a name in the domestic football industry.
"This is our chance as a team as well as my chance as an individual to make a name in the domestic football industry. I will never get another chance to prove myself, hence I am waiting anxiously for the start of the season," he said.
Mugumwa said he is conducting online training sessions to maintain his fitness in preparation for the resumption of normal training sessions when the lockdown restrictions are eventually lifted.
"We are going ahead with our online training sessions and keeping the coaches abreast with our sessions. It is going on well and we are happy that as a team, we have managed to remain one unit even though we are hardly meeting in person. Morale is still high and everyone is raring to go," he said.