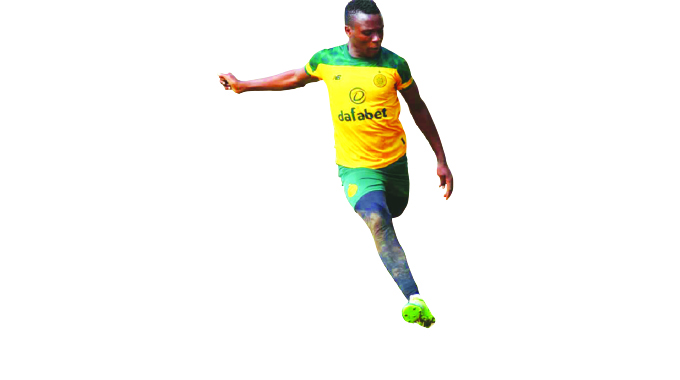 The ManicaPost
Ray Bande-Senior Reporter
PREMIER Soccer League debutantes, Tenax FC are leaving no stone unturned in their quest to make their presence felt in the domestic top-flight league after acquiring the services of new players, including talented Manicaland Juniors of Excellence Soccer Academy (MAJESA) star, Romeo Taringa.
The 18-year-old MAJESA left back, who was born and bred in Chinyausunzi section of Sakubva, is part of a group of Tenax FC new signings that also include left back, Takunda Vareta, formerly with Yadah FC, relegated Mushowani Stars centre back, Carlos Musimwa, as well as legendary, Lloyd Mutasa' son Panashe Mutasa, who once turned out for Dynamos and Chicken Inn.
Apart from strengthening their team by injecting new blood, Tenax FC are negotiating with sportswear manufacturer, Bravtex for a sponsorship deal that is expected to see the Mutare sportswear company taking care of the correctional services outfit's dressing needs. 
The Zimbabwe domestic league will finally return in July after more than a year on the sidelines due to the Covid-19 pandemic.
The PSL clubs met in Harare last Friday and decided that the league starts on July 17.
The curtain raiser to the season will be a cup tournament which will kick-off in two weeks times during the weekend of May 15-16.
Tenax FC executive member, Lloyd Chinawa, said they are doing all they can to ensure that the club does not only survives relegation, but also makes its impact felt in the domestic Premiership.
"We are certainly going into Premiership football, not just to make up numbers, but also to make our impact felt. We have acquired a number of new players and this has been done with the input of the technical department.
"We can confirm that we now have on board MAJESA left back, Romeo Taringa, left back, Takunda Vareta formerly with Yadah FC, Mushowani Stars centre back, Carlos Musimwa as well as Panashe Mutasa, who once turned out for Dynamos and Chicken Inn," said the former Highway FC and Manica Diamonds official.
On the Bravetex deal, Chinawa said: "Bravetex have assisted us with catering for the welfare of some of our players who are not employed by the Zimbabwe Prisons and Correctional Services. This is something commendable from a local corporate citizen.
"We want to ensure that we give them the mileage they deserve by performing well on the field of play when competition resumes. However, we need to point out that this is a partnership still in its infancy and we will duly notify all stakeholders when all loose ends to the deal have been tied up. We are appealing to more corporate citizens in Mutare and Manicaland at large to come and take advantage of the marketing mileage that Tenax FC offers." 
In a separate interview, MAJESA director and proprietor, Charles Chave confirmed that they have given Tenax FC the nod to use one of their best players.
"We are happy that we are partnering some of the major football institutions here in Mutare. These synergies help football to develop as a game as well as the development of individual players. Romeo Taringa remains a MAJESA player attached to Tenax FC. This will go a long way in giving the youngster a platform to showcase his skills and we hope we will have more youngsters from our side attached to different Premiership clubs," said Chave.
The Mutare-based academy's technical staff spent the greater part of last week interacting and taking notes on junior football management from South African top-flight league highly rated teams, Kaiser Chiefs and SuperSport United.
They also took the opportunity to import trendy junior football training equipment.
The quartet of technical director, Sammy Kabwe, head coach, Isaac Nengomasha, assistant coach, Alec Mkudu, and administrator, Panganai Paradza made up the travelling party.