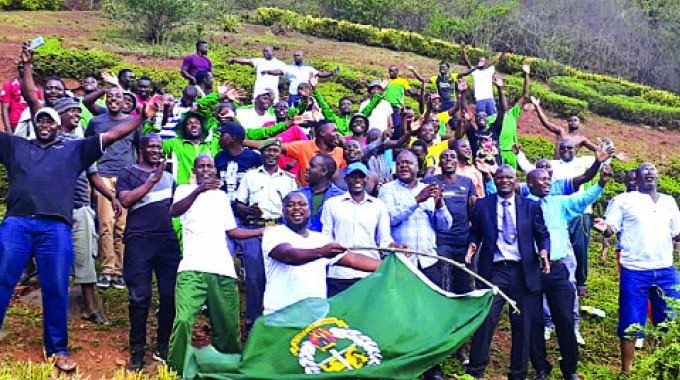 The ManicaPost
Ray Bande Senior Sports Reporter
AFTER paying more than three quarters of the required $208 010 affiliation fees, Mutare-based Tenax FC still have their tails firmly tucked between their legs as they beg the Premier Soccer League administration for another chance to pay the balance.
The Manica Post has also established that the PSL has already sent out expulsion letters to the defaulting teams.
Tenax FC chairman Stefani Masina, in last-ditch efforts to salvage their slot among the big boys of domestic football, travelled to Harare on Wednesday morning to facilitate a quick payment of the club's outstanding fee of $58 000.
The delay in the kick-off of the domestic league to at least June due to the coronavirus might give Tenax and its sister club Whawha, a chance to save their slots.
While new clubs are being asked to pay $208 010, all the other teams that were in the Castle Lager Premiership last year paid an affiliation fee of $48 000 each.
According to PSL, the $208 010 comprises an affiliation fee of $107 841. 25, a security deposit of $51 150 and a subscription fee of $49 018,75.
On their part, PSL have been lenient after Tenax and Whawha failed to meet the three deadlines of January 31, February 21 and March 13. The last deadline was given during the top-flight league's recent Annual General Meeting.
Masina confirmed that he travelled to Harare to sort out the issue.
"I am actually on my way to Harare to sort out the issue. We really appreciate the patience that PSL has shown in this matter and we only hope that they will also understand our position as a committed member-to-be of the organisation.
"We have paid the better part of the required amount and I hope we will be able to make the remaining payment by end of day today (Wednesday) or the next day.
"The whole thing now hinges on whether PSL will be a little bit more lenient with us. We are pleading for more leniency and we are confident that we will be able to pay," he said.
However, questions have risen as to whether Tenax FC will be able to survive the rigorous demands of the top-flight league considering that they have struggled to pay their affiliation fees.
"It is true, people will judge us by that. They will certainly ask such questions, but we are confident that this was just a temporary setback. Now that the league will start on a later date, we will be able to put our house in order and move forward as a team.
"Even when you want to approach the corporate world, you cannot do so without showing your own commitment. This is what we are trying to do, to show our commitment as a club," he said.
When contacted for comment, PSL spokesperson Kudzai Bare said they are actually waiting to hear from the clubs after they had already sent out letters of expulsion.
"I cannot comment on that issue since we are actually waiting for confirmation of receipt of the letters of expulsion. After that, we will have a PSL executive meeting on the way forward," revealed Bare.
Tenax, just like fellow Zimbabwe Prisons and Correctional Services side Whawha, were given a reprieve to pay their fees by last Friday. However, they failed to do so, thereby affecting the release of the 2020 league fixtures.
The clubs were subsequently barred from participating in the recent AGM.
In 2013, Blue Rangers, Quelaton, Gunners and Hardbody were allowed to play. They later exited the league empty-handed after the PSL  withheld their prize money over unpaid affiliation fees and fines.