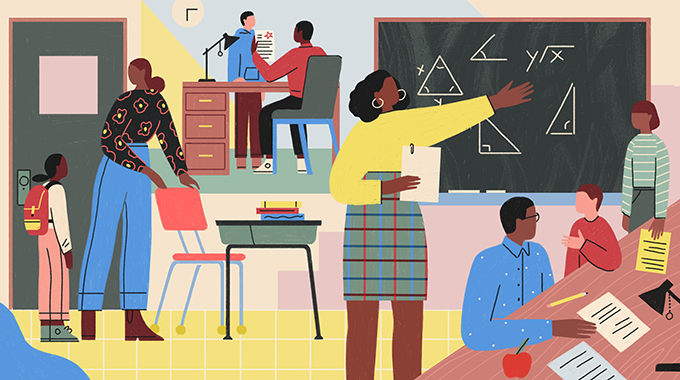 The ManicaPost
Samuel Kadungure-Senior Reporter
SOME schools are headed for a collision course with the Ministry of Primary and Secondary Education after re-introducing teacher incentives and creating disparities in teachers' earnings.
The incentives are drawn from the money paid for extra lessons and this initiative is being pushed by the School Development Committees (SDCs) for the various schools.
Registers are used during the extra lessons to keep track of those who would have paid up.
However, parents are not in agreement with the amounts being charged, with debates raging at the various schools' WhatsApp groups.
So intense are the arguments that some parents have vowed to do "whatever is good for our kids", while suggesting that "those who do not afford to pay the extra fees must make a plan and transfer their children to cheaper schools".
Parents opposed to the teachers' incentives are arguing that all workers are incapacitated.
The Manica Post understands that at Gaza Primary School in Chipinge, parents are paying US$1 per term, while Mt Selinda and Gaza High parents rejected the initiative.
Mrs Evelyn Manjeese said some primary schools in Mutare are charging US$3 per week.
"Each child is paying US$3 per week for the teacher and headmaster incentives and parents were forced to accept this. 
''In my son's class there are 60 pupils, which translates to US$720 per month," she said, adding that one third of this amount goes to the head, while the teacher gets the rest.
Parents at Kriste Mambo (Rusape), Hartzell High (Mutasa), Mavhudzi High (Nyazura) have proposed that a payment of US$10 per term should go towards the teachers' incentives.
However, parents for the Form One students at St Augustine's High School shot down the suggestion. 
A parent at St David's Bonda Girls' High said the arrangement was made last term and each parent deposited $5 000 into a separate school account.
Zimbabwe School Development Association/Committees (ZSDA/C) general secretary, Mr Everisto Jongwe, said the practice is rampant in several schools.
"SDCs in urban and boarding schools are advocating for the re-introduction of teachers' incentives as a measure to ensure that their children get quality education. However, there is no evidence that teachers' incentives increase students' performance, attendance or changes the teachers' behaviour," he said.
"SDCs do not have the legal obligation to pay those incentives, it is Government's responsibility to improve the conditions of service for its employees. In addition, incentives have no direct benefit to all the teachers, but a few. 
"They also divide the sector into urban and mission schools that might afford against the rural, farm, and peri-urban schools that cannot afford to pay the teachers. To have equality in education, we cannot have some schools charging incentives and others not," said Mr Jongwe.
National Association of Secondary Heads president, Mr Arthur Maphosa, said most incentives are disguised as donations.
"This practice has the undesirable effect of disadvantaging children from poor families. Incentives are divisive and tend to segregate children," said Mr Maphosa.
The education ministry spokesperson, Mr Taungana Ndoro, said the practice is illegal. 
"The policy has not changed. We long stopped the payment of incentives to teachers," he said, adding that incentives were introduced during the hyperinflationary 2009 as teachers could not travel to and from work.
"It is the responsibility of the Government to pay its employees. Teachers know what they should do if they want the employer to review their salaries. We are happy that processes are underway for their salaries to be reviewed," said Mr Ndoro.
Government has already committed to paying a salary increment this month while negotiations for a better package continue under the National Joint Negotiating Council (NJNC).