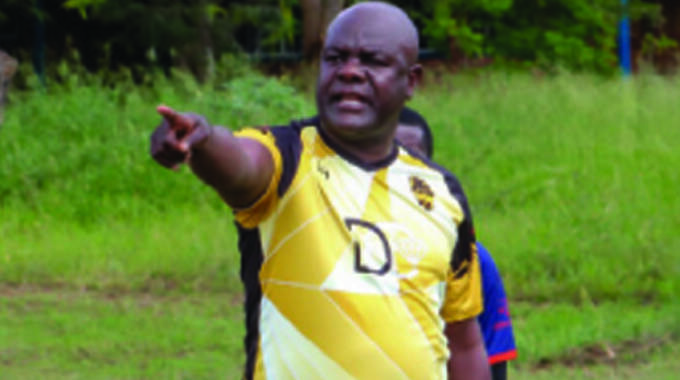 The ManicaPost
Ray Bande
Senior Reporter
MUTARE'S Castle Lager Premiership outfit, Manica Diamonds FC coach, Jairos Tapera, has chosen to speak softly and carry a big stick by refusing to directly proclaim that his team is aiming for the championship and yet, by local standards, he has assembled a formidable outfit.
As former US president, Theodore Roosevelt rose in political fame from the Governor of New York to the Vice-President, to then becoming President, Roosevelt developed this proverb — speak softly and carry a big stick, you will go far — into a political philosophy.
Essentially, the phrase means that success is likely to result when you take a nicer approach and remain humble even when everyone involved knows that you have a more forceful and brutal option at your disposal.
Thus, Tapera has refused to declare his club's championship aspiration.
Instead, with his hat in hand, he has passionately pleaded with stakeholders, fans in particular, to play the 12th man role if the team is to succeed.
The former Black Rhinos team manager is pleading for the support of all football loving people in Manicaland and those who trace their roots to the eastern-border province, as he reignites the quest to wrestle the top-flight league title from traditional powerhouses.
"It is difficult to say we want to be champions because the league has not yet started and we do not have a picture of our true abilities against our competitors. That only makes it difficult to state the position we want to achieve at the end of the 2023 season.
"However, we just want to win as many matches as we can in this league marathon. The attitude with the boys is right and they are eager to achieve more.
"What is important at the moment is that we get the support we need to win matches. I am kindly appealing to all those who love the game of football in Manicaland and Mutare in particular to throng Sakubva Stadium each time we have a match to give us their support. We really need them and we cannot achieve anything without them," said Tapera.
Manica Diamonds returned to their base in Mutare last week after a weeklong preseason camp in Chiredzi where the newly acquired players were meant to gel.
Tapera said: "Our preparations are going on well. So far so good. The 10 days we spent in Chiredzi were meant for bonding. Remember, this is a new team with quite a number of new players, hence the need to bond and gel.
"I think this was adequately achieved during the camp in Chiredzi. We are now going ahead with the ball word related preparations and that entails combinations and on field movements."
Tapera said they have lined up a number of friendly matches before the start of the season.
"We have a number of teams that we are eager to engage for friendly matches and we can only announce their identity when all is in place. That will also be an important part of our preparations as this will give us an insight into our strengths and weaknesses," said Tapera.
The former Young Warriors gaffer took over Manica Diamonds from Johanisi Nhumwa towards the end of the 2021-2022 Castle Lager Premiership season, with five matches remaining.
The Gem Boys, as Manica Diamonds are fondly referred to by their growing fan base in Manicaland, ended the season on 10th position.
The club had one of the busiest off-season transfer window roping in nine new players mainly from Dynamos,Triangle, Tenax CS FC and Black Rhinos.
Manica Diamonds Class of '23:
Bret Amidu; Ralph Kawondera; Donald Ngoma; Geral Bero; Farai Banda; Tedious Baye; Panashe Mutasa, Geoffrey Chitsumba; Kelvin Gwao; Tawanda Chisi; Trevor Mavhunga; Ask Rupande; Russell Kahiki; Jeffery Takunda; Timire Mamvura; Liberty Chakoroma; Jorum Muchambo; Pasca Manhanga; Talent Chamboko; Theophilus Mabhudhu; Brian Chikwenya, Charles Teguru; Micheal Tapera and Lawrence Masibhera.